Bookkeeping and Basic Accounting for Non-Accountants
About the Seminar
Overview
Any business, from SMEs to large companies, will efficiently track their performance with proper bookkeeping and accounting procedures. This should be done properly because accurate bookkeeping and accounting will eventually help you plan and grow your company. In our seminar, you will find out which records you should be keeping and how to keep your business records.
Objectives
To gain an understanding of the basic accounting concepts, procedures and processes in a simple and practical way.
To be able to learn actual applications of said concepts, procedures and processes through a series of workshops.
To be able to appreciate and know the importance of the financial accounting reports and information for a better decision making.
Who Should Participate
The seminar is intended for those who want to learn the following:
bookkeeping
accounting procedures
Key Topics
I. Introduction

a. Accounting Definition
b. Users of Financial Accounting Information

II. Basic accounting Concepts and Principles

III. Accounting Equation and the Rules of Debit and Credit and the Double Entry Bookkeeping System

IV. Accounting Cycle, i.e., analyzing, recording, classifying, summarizing and interpreting

V. Common Types of Accounting Transactions and their Impact on the Accounting Equation

VI. Books of Accounts

a. Importance and Legal Basis for the Use of Books of Accounts

b. Different Types of Books of Accounts (Journals and Ledgers)

c. Use and Definition of Each Book of Accounts

d. Recording Information on Each Book of Accounts

VII. Basic Financial Statements and its Preparation

a. Components of the Basic Financial Statements (applicable to every type of business organization)

b. Contents and Use of Each Basic Financial Statement

c. Simple Analysis of Financial Statements

VIII. Question and Answer

IX. Workshop (actual)

a. Journalizing

b. Posting to general ledger / subsidiary ledger

c. Preparing a T-account

d. Preparing trial balance and financial statements

*Please bring a calculator
Time
9:00 am – 4:00 pm
Venue
Unit 201 Richbelt Tower, 17 Annapolis St., Greenhills, San Juan City, Metro Manila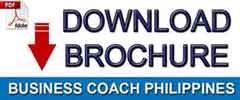 Registration Details
Seminar Fee
Php 6,000.00 per person (inclusive of snacks, lunch, seminar kit, handouts, certificate of attendance)
Discount
10% Discount if FULL AMOUNT is paid at least five (5) banking days before the event.
Reservation
Please call to register, or you may download our registration form. Kindly fill-out, and send to us through fax (727.88.60) or email. You will receive a confirmation within 48 hours.
Mode of Payment
Deposit payment at Banco de Oro, Savings Account Name: BusinessCoach, Inc. Then kindly fax deposit slip (indicate name of participant and seminar title) to confirm reservation.
On-site payment (CASH only)
Company checks are accepted, provided that they are received at least five (5) banking days before the event.
Cancellation by Attendee
Registrant may refund amount paid, with less 30% processing charge from the LISTED AMOUNT within 30 days, or opt to use the payment for a seminar of equal value within 60 days. Cancellation must be done at least 2 days before the event. Non-appearance or failure to inform us of cancellation will result to forfeiture of full amount paid.
Cancellation by BusinessCoach, Inc.
Registrant may refund full amount paid within 30 days, or may opt to use the payment for a seminar of equal value within sixty days of cancellation.
Refund Policy
Payment may be refunded upon presentation of the original copy of bank deposit slip and a valid ID. Cash refund is strictly implemented, and may be availed only at the BusinessCoach, Inc. office in San Juan City, Metro Manila. BusinessCoach, Inc. does not deposit refunds.
Note
Schedule may change without prior notice. Please call to confirm. BusinessCoach, Inc. is not liable for any expense incurred by seminar registrant resulting from cancellation of any of our events.
Contact Details
Contact Numbers
Please call (632) 727.56.28, (632) 225.66.16, or (632) 727.88.60
or call/text mobile numbers 0915.205.0133 / 0908.342.3162 / 0926.622.0768 / 0933.584.7266
Inquiries
For other inquiries, you may also leave a message in our contact form.
Testimonials
"Our speaker made us love accounting. This seminar is a great help. More power." – K. Rubino
"Easy to understand for somebody with no accounting background." – R. Mingoa
"The speaker is an expert who have helped me understand and appreciate accounting than before I attended the seminar! Thanks a lot for the skills shared to all of the participants." – M. Castor
"It helped me a lot, most especially when it comes to basic accounting. I hope BusinessCoach will continue to help individuals to excel and have more knowledge." – M. Martinez
"For someone who has no accounting background, it's amazing that I am able to understand the lesson very well. I have gained the basic knowlege required." – V. Peña
"Keep up the good work!" – A. Manabat
"Thanks a lot & more success in the future." – A. Ng
"I enjoyed. I'll definitely attend your future seminars." – M. Sanchez
"Very effective speaker. I'm very happy with this seminar." – E. Sotto
"The speaker skillfully managed to address the different levels of the participants at the same time. We completed the process and objectives were covered in the seminar. The participants clearly understood the topic." – I. Sehwani
"Good job! Great resource person – very useful info and very knowledgeable in her field." – K. Odulio