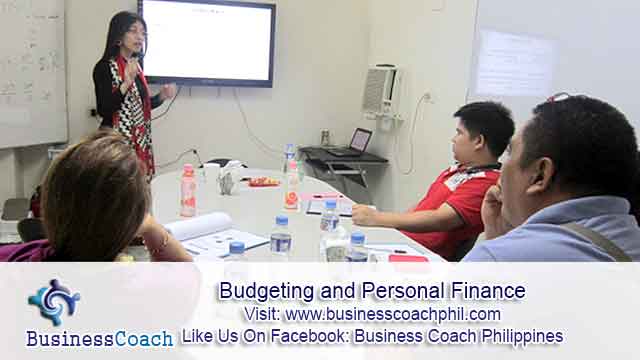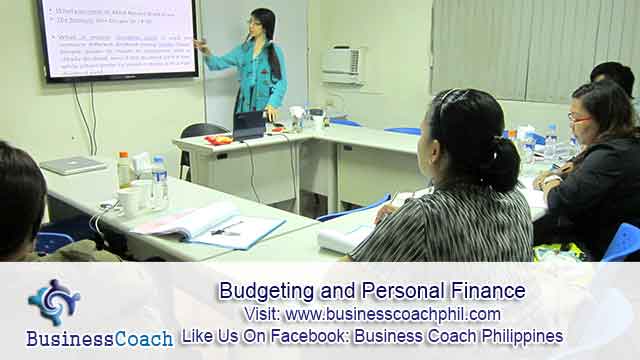 Budgeting and Personal Finance
About the Seminar
Overview

Employees, students, fresh graduates, owners of different small businesses, retirees, home-makers or laity, must have a quick grasp on simple budgeting. It is a reality that lack of financial knowledge is dangerous but the absence of budgeting capability even makes it more alarming.

It gives stress when we run out of budget. We end up borrowing from loan sharks and the more it will make us miserable because we will survive that cut-off but next off will again be financially distressed. There, the cycle begins and it will be endless if we don't know how to budget our resources.
Objectives

• To be able to understand our resources and how to improve them
• To appreciate financial data and how to use it to decide wisely
• To learn practical applications of budgeting
Who Should Participate

This seminar is designed for all levels of employees, home-makers, students, retirees and other interested individuals
Key Topics

I. Understanding the benefits of having a budget

a. enumerating the benefits

II. Mind-setting and focusing on the goal

III. Steps in creating a budget

a. Gathering all receipts or any financial statements
b. Recording sources of income
c. Creating a list of monthly expenses
d. Categorizing expenses to fixed and variable
e. Summarizing monthly income and expenses
f. Making adjustments to expenses
g. Reviewing monthly budget

IV. Creating a budget worksheet

a. Accomplishing the contents of the worksheet
i. illustrating the categories (income, expenses etc.)
ii showing how to fill-up the worksheet
b. Comparing budget and actual amount

V. Testing audience's understanding

a. Activity

VI. Possible Personal Investments

a. Stocks / Bonds
b. Insurance
c. Real Estate
d. Entrepreneurship

VII. Q & A
Time

9:00 am – 4:00 pm
Venue

Unit 201 Richbelt Tower, 17 Annapolis St., Greenhills, San Juan City, Metro Manila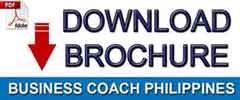 Registration Details
Seminar Fee

Php 3,000.00 per person (inclusive of snacks, lunch, seminar kit, handouts, certificate of attendance)
Discount

10% Discount if FULL AMOUNT is paid at least five (5) banking days before the event.
Reservation

Please call to register, or you may download our registration form. Kindly fill-out, and send to us through fax (727.88.60) or email. You will receive a confirmation within 48 hours.
Mode of Payment
Deposit payment at Banco de Oro, Savings Account Name: BusinessCoach, Inc. Then kindly fax deposit slip (indicate name of participant and seminar title) to confirm reservation.
On-site payment (CASH only)
Company checks are accepted, provided that they are received at least five (5) banking days before the event.
Cancellation by Attendee

Registrant may refund amount paid, with less 30% processing charge from the LISTED AMOUNT within 30 days, or opt to use the payment for a seminar of equal value within 60 days. Cancellation must be done at least 2 days before the event. Non-appearance or failure to inform us of cancellation will result to forfeiture of full amount paid.
Cancellation by BusinessCoach, Inc.

Registrant may refund full amount paid within 30 days, or may opt to use the payment for a seminar of equal value within sixty days of cancellation.
Refund Policy

Payment may be refunded upon presentation of the original copy of bank deposit slip and a valid ID. Cash refund is strictly implemented, and may be availed only at the BusinessCoach, Inc. office in San Juan City, Metro Manila. BusinessCoach, Inc. does not deposit refunds.
Note
Schedule may change without prior notice. Please call to confirm. BusinessCoach, Inc. is not liable for any expense incurred by seminar registrant resulting from cancellation of any of our events.
Contact Details
Contact Numbers

Please call (632) 727.56.28, (632) 225.66.16, or (632) 727.88.60
or call/text mobile numbers 0915.205.0133 / 0908.342.3162 / 0926.622.0768 / 0933.584.7266
Inquiries

For other inquiries, you may also leave a message in our contact form.