Competency-Based Development of HR Policies and Procedures
About the Seminar
Overview
Better company performance emanate from the employees that thrives on practical and clear direction of company policies. Company output relies on the behavior of employees and through HR policies that influence such behavior are the crux of all company policies.
Now you can have the insights to the foundation of all policies that helps your company achieve through HR policies on talent attraction and management, employment conditions, training and development, and cessation of service.
Objectives
At the end of the program, the participants should be able to:
• explore the practical skills needed to attract, engage, retain and manage staff.
• discover the best competency-based strategies to motivate and retain employees.
• obtain a more thorough understanding of roles and responsibilities of managers involved in the HR functions of today's organizations.
• increase your confidence and productivity.
Who Should Participate
• Managers who need to understand and apply HR systems
• Non-HR professionals who are responsible for HR activities
• Managers and professionals who are tasked with launching an HR department
• HR professionals with less than five years of experience
• HR specialists who have limited generalist experience
• Anyone who handles and manages human resources or people
Key Topics
Introduction to HR Policies
– Definition of key terms
– Literature on HR Policies
– "Practical" vs. "Ideal" HR policies
Embarking to write
– Understand internal factors like:
– Company demography and culture
– Company vision, mission and strategies
– Existing policies
– Discover what is "practical"
– Take stock of present resources
– Manpower, information, time
Plan before your start
– Use Gantt chart
– Draft, review and approve process
External factors of consideration
– Statutory requirements
– Benchmark against competitive practice
– Corporate vs local policies
HR's Role in Compliance
– Establishing HR management policies and practices that comply with labor laws
– Knowing when to seek help from legal experts
– Identifying compliance "red flags" as they occur
– Benchmark against competitive practice
Termination
– Describing HR's role in termination
– Differentiating between voluntary and involuntary termination
Review process
– Policy approval flow
– Intermediate actions
Implementation of HR Policies
– Communication to seek "buy-in"
– How to launch
Time
9:00 am – 4:00 pm
Venue
Unit 201 Richbelt Tower, 17 Annapolis St., Greenhills, San Juan City, Metro Manila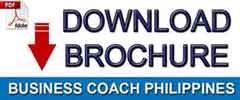 Registration Details
Seminar Fee
Php 3,000.00 per person (inclusive of snacks, lunch, seminar kit, handouts, certificate of attendance)
Discount
10% Discount if FULL AMOUNT is paid at least five (5) banking days before the event.
Reservation
Please call to register, or you may download our registration form. Kindly fill-out, and send to us through fax (727.88.60) or email. You will receive a confirmation within 48 hours.
Mode of Payment
Deposit payment at Banco de Oro, Savings Account Name: BusinessCoach, Inc. Then kindly fax deposit slip (indicate name of participant and seminar title) to confirm reservation.
On-site payment (CASH only)
Company checks are accepted, provided that they are received at least five (5) banking days before the event.
Cancellation by Attendee
Registrant may refund amount paid, with less 30% processing charge from the LISTED AMOUNT within 30 days, or opt to use the payment for a seminar of equal value within 60 days. Cancellation must be done at least 2 days before the event. Non-appearance or failure to inform us of cancellation will result to forfeiture of full amount paid.
Cancellation by BusinessCoach, Inc.
Registrant may refund full amount paid within 30 days, or may opt to use the payment for a seminar of equal value within sixty days of cancellation.
Refund Policy
Payment may be refunded upon presentation of the original copy of bank deposit slip and a valid ID. Cash refund is strictly implemented, and may be availed only at the BusinessCoach, Inc. office in San Juan City, Metro Manila. BusinessCoach, Inc. does not deposit refunds.
Note
Schedule may change without prior notice. Please call to confirm. BusinessCoach, Inc. is not liable for any expense incurred by seminar registrant resulting from cancellation of any of our events.
Contact Details
Contact Numbers
Please call (632) 727.56.28, (632) 225.66.16, or (632) 727.88.60
or call/text mobile numbers 0915.205.0133 / 0908.342.3162 / 0926.622.0768 / 0933.584.7266
Inquiries
For other inquiries, you may also leave a message in our
contact form
. »