Condominium Management Principles and Practices
About the Seminar
Overview
The seminar will tackle the essentials of condominium management (covering commercial, residential and mixed used condominiums) from the regulatory requirements to the tasks that must be performed to ensure the efficient operation of the condominium. Also, the crucial technical support services will be discussed. This covers preventive maintenance and how to operate and maintain swimming pools, elevators, and sewage treatment among other necessary concerns.
Objectives
• To know the various government rules and regulations relating to the management of condominiums
• To learn what qualifications are needed to make a good condominium manager
• To know the responsibilities and duties of a property manager
• To learn how to operate and maintain the condominium
Who Should Participate
• Property Managers / Building Administrators
• Building Practitioners / Administrative Staff
• Property Owners / Real Estate Developers
• Building Engineers / Facilities Managers
• Property Accountant
• Condominium Associations
Key Topics
I. Setting Up a Condominium Corporation and Organization

• Security and Exchange Commission Registration
• Application of Initial Permits and Licenses
• Condominium Act of the Philippines
• Master Deed with Declaration of Restrictions
• Housing and Land Use Regulatory Board Registration-(HLURB)
• Condominium House Rules and Regulations
• Annual General Membership Meeting
• Organizational Set-up and Staffing
• Membership of Unit Owners and Move in Tenants

II. Operations and Management

• Basic Qualification of a Property Manager
• Functions of the Property Administration
• Duties and Responsibilities of a Property Manager
• Condominium Management and Services
• Property All Risk Insurance Coverage
• Comprehensive Pest Control and Termite Program
• How to Establish Building Cleaning Program
• Security and Safety Program
• Fire Safety Program
• Operating Expense Budget Preparation
• Association Dues Collection and Special Assessment
• Guideline for Take Over of a Building
• Construction Guidelines
• Financial and Fund Management in Condominium for Non-Accountant
• Property Leasing Services
• Landscaping and Ground Maintenance
• Waste Management Standard

III. Technical Support Services

• Expectation on Technical Services
• Preventive Maintenance Program on Building Facilities
• Swimming Pool- Operations and Maintenance
• Elevators & Other Mechanical -Operations and Maintenance
• Sewage Treatment Plant- Operations and Maintenance
Time
9:00 am – 4:00 pm
Venue
Unit 201 Richbelt Tower, 17 Annapolis St., Greenhills, San Juan City, Metro Manila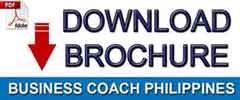 Registration Details
Seminar Fee
Php 3,000.00 per person (inclusive of snacks, lunch, seminar kit, handouts, certificate of attendance)
Discount
10% Discount if FULL AMOUNT is paid at least five (5) banking days before the event.
Reservation
Please call to register, or you may download our registration form. Kindly fill-out, and send to us through fax (727.88.60) or email. You will receive a confirmation within 48 hours.
Mode of Payment
Deposit payment at Banco de Oro, Savings Account Name: BusinessCoach, Inc. Then kindly fax deposit slip (indicate name of participant and seminar title) to confirm reservation.
On-site payment (CASH only)
Company checks are accepted, provided that they are received at least five (5) banking days before the event.
Cancellation by Attendee
Registrant may refund amount paid, with less 30% processing charge from the LISTED AMOUNT within 30 days, or opt to use the payment for a seminar of equal value within 60 days. Cancellation must be done at least 2 days before the event. Non-appearance or failure to inform us of cancellation will result to forfeiture of full amount paid.
Cancellation by BusinessCoach, Inc.
Registrant may refund full amount paid within 30 days, or may opt to use the payment for a seminar of equal value within sixty days of cancellation.
Refund Policy
Payment may be refunded upon presentation of the original copy of bank deposit slip and a valid ID. Cash refund is strictly implemented, and may be availed only at the BusinessCoach, Inc. office in San Juan City, Metro Manila. BusinessCoach, Inc. does not deposit refunds.
Note
Schedule may change without prior notice. Please call to confirm. BusinessCoach, Inc. is not liable for any expense incurred by seminar registrant resulting from cancellation of any of our events.
Contact Details
Contact Numbers
Please call (632) 727.56.28, (632) 225.66.16, or (632) 727.88.60
or call/text mobile numbers 0915.205.0133 / 0908.342.3162 / 0926.622.0768 / 0933.584.7266
Inquiries
For other inquiries, you may also leave a message in our contact form »