Current Good Manufacturing Practices (cGMP)
About the Seminar
Overview
It is the policy of the Philippine government to regulate and control the manufacture, packing, repacking or holding of human foods to ensure their quality and safety. It is therefore necessary that all food establishments follow the regulations set by FDA, Phil. (Food and Drug Administration, Philippines). These are all embodied in the set of required Good Manufacturing Practices (GMP).
Objectives
to enable participants to better understand the importance of GMP
to be able to impart to seminar participants the different types of food hazards that affect food safety
to enable the participants to understand and adopt the required good manufacturing practices in their workplace
to update participants on the recent BFAD Administrative Order regarding GMP implementation.
Who Should Participate
Managers and proprietors of food or drug manufacturing enterprises
Personnel involved in the manufacturing process of food or drug items
Quality control personnel of food or drug manufacturing enterprises
Key Topics
MODULE 1. INTRODUCTION TO GMP

• Common GMP-Related Problems in the Food Industry
• Benefits from GMP Implementation

MODULE 2. DIFFERENT TYPES OF FOOD HAZARDS AND THEIR EFFECTS ON FOOD

• Physical, Chemical and Biological Food Hazards
• Significance of Microbiology in Foods and Food Handling

a. Sources of Microorganisms
b. Classification of Microorganisms
c. Effects of Microorganisms on Food
d. Factors that Influence Microbial Activity

• Some Recent Food Poisoning Cases

MODULE 3. PERSONAL HYGIENE AS A BIG FACTOR IN GMP

• Personal responsibilities/grooming
• Proper Washing of Hands
• Prescribed Uniform

MODULE 4.SANITATION AND DISINFECTION

• Some Recommended Sanitizers and Disinfectants
• How to Handle and Store Disinfectants and Sanitizers

MODULE 5. BFAD AO. 54 AND OTHER BFAD PLANT REQUIREMENTS

• BFAD AO NO. 54
• Other BFAD Plant Requirements

a. Plant and grounds
b. Utensils and Equipment
c. Water and Raw Material Supply
d. Operations and Processing Procedure
e. Storage and Distribution
Time
9:00 am – 4:00 pm
Venue
Unit 201 Richbelt Tower, 17 Annapolis St., Greenhills, San Juan City, Metro Manila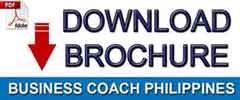 Registration Details
Seminar Fee
Php 3,000.00 per person (inclusive of snacks, lunch, seminar kit, handouts, certificate of attendance)
Discount
10% Discount if FULL AMOUNT is paid at least five (5) banking days before the event.
Reservation
Please call to register, or you may download our registration form. Kindly fill-out, and send to us through fax (727.88.60) or email. You will receive a confirmation within 48 hours.
Mode of Payment
Deposit payment at Banco de Oro, Savings Account Name: BusinessCoach, Inc. Then kindly fax deposit slip (indicate name of participant and seminar title) to confirm reservation.
On-site payment (CASH only)
Company checks are accepted, provided that they are received at least five (5) banking days before the event.
Cancellation by Attendee
Registrant may refund amount paid, with less 30% processing charge from the LISTED AMOUNT within 30 days, or opt to use the payment for a seminar of equal value within 60 days. Cancellation must be done at least 2 days before the event. Non-appearance or failure to inform us of cancellation will result to forfeiture of full amount paid.
Cancellation by BusinessCoach, Inc.
Registrant may refund full amount paid within 30 days, or may opt to use the payment for a seminar of equal value within sixty days of cancellation.
Refund Policy
Payment may be refunded upon presentation of the original copy of bank deposit slip and a valid ID. Cash refund is strictly implemented, and may be availed only at the BusinessCoach, Inc. office in San Juan City, Metro Manila. BusinessCoach, Inc. does not deposit refunds.
Note
Schedule may change without prior notice. Please call to confirm. BusinessCoach, Inc. is not liable for any expense incurred by seminar registrant resulting from cancellation of any of our events.
Contact Details
Contact Numbers
Please call (632) 727.56.28, (632) 225.66.16, or (632) 727.88.60
or call/text mobile numbers 0915.205.0133 / 0908.342.3162 / 0926.622.0768 / 0933.584.7266
Inquiries
For other inquiries, you may also leave a message in our contact form.