Effective Business Writing (Memos, Emails, Agendas, Meeting Minutes)
About the Seminar
Overview
The Effective Business Writing Workshop is designed with individual contributors, staff assistants, team leaders, supervisors, managers and executives in mind. Anyone who wishes to create more professional, effective written communications will benefit greatly from this program, as will those who desire to boost productivity and improve the impact of their writing to clients and co-workers.

In this workshop, the participants will learn to improve their writing skills such as preparation, organization, understanding the needs of the reader, avoiding common grammar and spelling mistakes, and basic editing.
Objectives
The participants will learn to:

• Clarify frequently confused terms
• Produce concise text through inductive and deductive reasoning
• Write formats and formulas for various writing requirements
• Feel more confident preparing written documents
• Identify good writing and use a writing process that makes writing faster and easier
• Analyze reader needs before starting to write
• Organize writing for effectiveness
• Use a writing style that is both professional and clear
Who Should Participate
Managers, secretaries, and anyone who is involved in writing business letters.
Key Topics
I. General principles of writing

• Who is going to read your document? Knowing your reader helps you pitch your message
• Apply the eight principles of good business writing

II. Writing letters

• Layouts for letters – address, contact details, salutation
• Main part of letter – structure, tone, style
• Closures and enclosures – standard forms

III. Writing emails

• Email etiquette for header fields – subject lines, content, forward and reply
• Technical issues – signature files, attachments, elaborate fonts can work for or against you
• Choosing the right structure for your content and objective
• Email style counts – it still represents your business!
• Sending the right message – what your email could be saying about you
• How to minimize flaming by recognizing ambiguous content and knowing when to use the phone instead

IV. Writing Reports

• Organizing your content for easy comprehension
• Some useful techniques for longer documents
• Structuring your report – standard elements and variations
• Checklist for structure – does it support your content?
• Avoiding writer's block: the mindset for drafting

V. Writing Agendas, Minutes or Meeting Summaries

• Benefits of good minute taking
• Agenda – layout and contents to facilitate minute taking
• Layout and style of minutes
• Preparation to take the stress out
• Recognizing facts from chatter
• Knowing what to include

VI. Editing your work

• A top-down approach to improving text – edit like a reader
• Effective transitions – holding the flow of thought
• Tips to maximize impact
• Polishing your grammar and punctuation – common mistakes and things that make some people go mad
• Spelling – using the tools infinitives
Time
9:00 am – 4:00 pm
Venue
Unit 201 Richbelt Tower, 17 Annapolis St., Greenhills, San Juan City, Metro Manila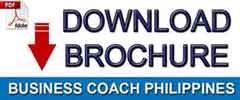 Registration Details
Seminar Fee
Php 3,000.00 per person (inclusive of snacks, lunch, seminar kit, handouts, certificate of attendance)
Discount
10% Discount if FULL AMOUNT is paid at least five (5) banking days before the event.
Reservation
Please call to register, or you may download our registration form. Kindly fill-out, and send to us through fax (727.88.60) or email. You will receive a confirmation within 48 hours.
Mode of Payment
Deposit payment at Banco de Oro, Savings Account Name: BusinessCoach, Inc. Then kindly fax deposit slip (indicate name of participant and seminar title) to confirm reservation.
On-site payment (CASH only)
Company checks are accepted, provided that they are received at least five (5) banking days before the event.
Cancellation by Attendee
Registrant may refund amount paid, with less 30% processing charge from the LISTED AMOUNT within 30 days, or opt to use the payment for a seminar of equal value within 60 days. Cancellation must be done at least 2 days before the event. Non-appearance or failure to inform us of cancellation will result to forfeiture of full amount paid.
Cancellation by BusinessCoach, Inc.
Registrant may refund full amount paid within 30 days, or may opt to use the payment for a seminar of equal value within sixty days of cancellation.
Refund Policy
Payment may be refunded upon presentation of the original copy of bank deposit slip and a valid ID. Cash refund is strictly implemented, and may be availed only at the BusinessCoach, Inc. office in San Juan City, Metro Manila. BusinessCoach, Inc. does not deposit refunds.
Note
Schedule may change without prior notice. Please call to confirm. BusinessCoach, Inc. is not liable for any expense incurred by seminar registrant resulting from cancellation of any of our events.
Contact Details
Contact Numbers
Please call (632) 727.56.28, (632) 225.66.16, or (632) 727.88.60
or call/text mobile numbers 0915.205.0133 / 0908.342.3162 / 0926.622.0768 / 0933.584.7266
Inquiries
For other inquiries, you may also leave a message in our
contact form
. »
Testimonials
"The speaker is very generous in sharing his knowledge and data on related topics." – T. Taag
"Seminar was very helpful and informative." – M. Papa