Effective Business Writing (Memos, Emails, Agendas, Meeting Minutes)
About the Seminar
Overview
This seminar-workshop helps improve the writing skills of anyone tasked to prepare written communications.
Objective
To be able to know the effective ways of writing business letters
Who Should Participate
Managers, secretaries, and anyone who is involved in writing business letters.
Key Topics
I. Overview

A. The Importance of Communication in the Business Context (Why is written communication important in business?)
B. Seminar Objectives

II. Formulating Objectives for Clear Communication

III. Communication Framework That Works

IV. Characteristics of an Effective Communication (The 10 C's to Master Communication)

V. Forms and Styles in Writing Business Communication

A. Forms
B. Styles

VI. Writing in Various Formats: Communicating the right message to the intended readers in the appropriate way

A. Letters/Correspondence
B. Memorandum/Special Order
C. Notice of Meeting and Agenda
D. Minutes of the Meeting
E. Reports (Technical and Non-Technical)

1. Accomplishment Report
2. Progress Report/Interim Report
3. Terminal Report/ Project Completion Report

F. Success Stories/Documentaries
G. Business Plans/Project Proposals
H. Advisories/Public Service Announcements
I. Composing Efficient e-Mail Messages and Wall Postings

1. Types of e-Mails
2. A Decision to Make: e-Mail versus Phone
3. Making Your e-Mail Stand Out
4. Regarding Responding, Forwarding and Attachments
5. Standard Netiquette Practices
6. Before Pressing "Send"
7. The Basics of Web Site Writing
8. Web Site Structure
9. Components and Contents
10. Attracting and Keeping an Audience with Words
11. Keywords and Hyperlinks
12. Keeping It Fresh
13. Making Your Web Site More Interactive and Communicative
14. Ways to Reach Out Further to Your Target Audience
15. Web Site Newsletters

VII. Basic Principles of Clear and Effective Writing

VIII. Development Stages of Writing

A. Pre-Writing

1. Brainstorming a.k.a. listing
2. Clustering a.k.a mind-mapping
3. Problem Analysis

B. Actual Copy Writing

1. Sentence Writing
2. Developing Paragraphs
3. Making Transitions

C. Editing and Proofreading

1. The Particulars of Editing
2. The Need for Revision(s)
3. Conducting Necessary Research and Fact-Checking
4. Proofreading
5. Editing Marks

D. Copy Format Setting and Lay-outing

1. Choosing font type and size
2. Setting margins and spacing
3. Employing Creativity for Ensuring Successful Copywriting

IX. Seven Simple Steps in Writing Effective Business Correspondences

A. Identify the PINCS (problem, issue, need, concern & situation)
B. Know your audience
C. Define your purpose
D. Plan your message
E. Write down with freedom
F. Read, Re-write and Revise
G. Sharpen to Polish
Time
9:00 am – 4:00 pm
Venue
Unit 201 Richbelt Tower, 17 Annapolis St., Greenhills, San Juan City, Metro Manila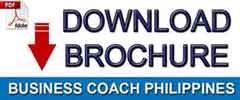 Registration Details
Seminar Fee
Php 3,000.00 per person (inclusive of snacks, lunch, seminar kit, handouts, certificate of attendance)
Discount
10% Discount if FULL AMOUNT is paid at least five (5) banking days before the event.
Reservation
Please call to register, or you may download our registration form. Kindly fill-out, and send to us through fax (727.88.60) or email. You will receive a confirmation within 48 hours.
Mode of Payment
Deposit payment at Banco de Oro, Savings Account Name: BusinessCoach, Inc. Then kindly fax deposit slip (indicate name of participant and seminar title) to confirm reservation.
On-site payment (CASH only)
Company checks are accepted, provided that they are received at least five (5) banking days before the event.
Cancellation by Attendee
Registrant may refund amount paid, with less 30% processing charge from the LISTED AMOUNT within 30 days, or opt to use the payment for a seminar of equal value within 60 days. Cancellation must be done at least 2 days before the event. Non-appearance or failure to inform us of cancellation will result to forfeiture of full amount paid.
Cancellation by BusinessCoach, Inc.
Registrant may refund full amount paid within 30 days, or may opt to use the payment for a seminar of equal value within sixty days of cancellation.
Refund Policy
Payment may be refunded upon presentation of the original copy of bank deposit slip and a valid ID. Cash refund is strictly implemented, and may be availed only at the BusinessCoach, Inc. office in San Juan City, Metro Manila. BusinessCoach, Inc. does not deposit refunds.
Note
Schedule may change without prior notice. Please call to confirm. BusinessCoach, Inc. is not liable for any expense incurred by seminar registrant resulting from cancellation of any of our events.
Contact Details
Contact Numbers
Please call (632) 727.56.28, (632) 225.66.16, or (632) 727.88.60
or call/text mobile numbers 0915.205.0133 / 0908.342.3162 / 0926.622.0768 / 0933.584.7266
Inquiries
For other inquiries, you may also leave a message in our
contact form
. »
Testimonials
"The speaker is very generous in sharing his knowledge and data on related topics." – T. Taag
"Seminar was very helpful and informative." – M. Papa