Effective Change Management
About the Seminar
Overview
In today's fast-paced world, every organization can benefit from a better way to manage change. It is human nature to experience pain and confusion whenever there are changes, as we have the tendency to be contented and comfortable in the old systems. Because of business survival and its sustainability coupled with the strong management directives, changes have to be managed. Leading corporations, governmental entities, institutions and non-profits are adopting change management as an organizational competency, viewing it as a competitive advantage in our ever-changing business world.
Objective
This seminar tackles the reasons for change and the available strategies for change. You will learn how to implement, manage, and cope with change.
Who Should Participate
• Business owners
• Managers
• Supervisors
• Anyone responsible in implementing change in the company/organization
Key Topics
Module 1: Ways of Looking at Change

Concept of change
Models of change
Importance of transition

Module 2: Making the Change

Variables to effect change
Responsible for implementing change
Change strategies

Module 3: Making Change Easier

Assess risk
Communicate during changes
Empower employees during transitions

Module 4: Coping with Change

Resiliency
Impact of stress
Coping skills

Module 5: Maintaining a Sense of Control

Ability to choose
Best choices to make
Ensure that changes stick
Time
9:00 am – 4:00 pm
Venue
Unit 201 Richbelt Tower, 17 Annapolis St., Greenhills, San Juan City, Metro Manila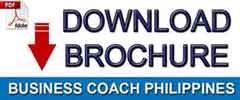 Registration Details
Seminar Fee
Php 3,000.00 per person (inclusive of snacks, lunch, seminar kit, handouts, certificate of attendance)
Discount
10% Discount if FULL AMOUNT is paid at least five (5) banking days before the event.
Reservation
Please call to register, or you may download our registration form. Kindly fill-out, and send to us through fax (727.88.60) or email. You will receive a confirmation within 48 hours.
Mode of Payment
Deposit payment at Banco de Oro, Savings Account Name: BusinessCoach, Inc. Then kindly fax deposit slip (indicate name of participant and seminar title) to confirm reservation.
On-site payment (CASH only)
Company checks are accepted, provided that they are received at least five (5) banking days before the event.
Cancellation by Attendee
Registrant may refund amount paid, with less 30% processing charge from the LISTED AMOUNT within 30 days, or opt to use the payment for a seminar of equal value within 60 days. Cancellation must be done at least 2 days before the event. Non-appearance or failure to inform us of cancellation will result to forfeiture of full amount paid.
Cancellation by BusinessCoach, Inc.
Registrant may refund full amount paid within 30 days, or may opt to use the payment for a seminar of equal value within sixty days of cancellation.
Refund Policy
Payment may be refunded upon presentation of the original copy of bank deposit slip and a valid ID. Cash refund is strictly implemented, and may be availed only at the BusinessCoach, Inc. office in San Juan City, Metro Manila. BusinessCoach, Inc. does not deposit refunds.
Note
Schedule may change without prior notice. Please call to confirm. BusinessCoach, Inc. is not liable for any expense incurred by seminar registrant resulting from cancellation of any of our events.
Contact Details
Contact Numbers
Please call (632) 727.56.28, (632) 225.66.16, or (632) 727.88.60
or call/text mobile numbers 0915.205.0133 / 0908.342.3162 / 0926.622.0768 / 0933.584.7266
Inquiries
For other inquiries, you may also leave a message in our contact form »