Effective Office Administration
About the Seminar
Overview
Administrators are vital to the smooth running of any organization and play a key role in contributing to the performance of their teams and departments. Their effectiveness has a direct influence on the productivity and efficiency of others and often determines the quality of service provided to internal and external customers.

This seminar has been designed to enable administrators to enhance their personal effectiveness and working practices, build stronger relationships, broaden their contribution to the team and achieve excellence in the service they provide to colleagues and customers.
Objectives
• Understand the core responsibilities of office professionals
• Identify, review and update the basic administrative systems required by an organization
• Understanding the importance of dealing with confidential documents and issues
• Understand how to deal with incoming mail and tasks and how to refer tasks to the right people
• Confidently tackle the various methods of filing
• Describe the importance of optimizing technology e.g. email and the internet
• Develop policies and procedures on administrative systems and write them into a manual
Who Should Participate
This practical and highly interactive seminar is ideal for all people who have the responsibility of developing administrative procedures to make the administrative component of the organization more effective and efficient and so aid the organization in attaining its mission, vision and objectives.
Key Topics
I. Administrative systems

• Identify administrative systems including filing systems and staff administrative systems and business systems
• Identify the elements and application of each system in relation to company and legal requirements
• Identify resources such as staff, information technology, office space and management requirements for the development of these administrative systems.
• Identify ways of finding resources in a specific business institution

II. Develop and update administrative systems

• The administrative requirements are identified to meet the specific needs of a selected organization
• The identified administrative systems are developed in accordance with organizational requirements
• The administrative systems and procedures identified are presented to management and staff for approval
• Feedback is obtained from management and staff regarding the suitability of systems on specifically designed feedback forms
• Agreed changes are made to the systems

III. Develop systems to keep information at the required level of confidentiality

• Administrative information which should be kept confidential, is identified in accordance with legal, company and industry requirements and practices
• Systems are developed to keep administrative information and records confidential and maintain secrecy of such information as required legally and your company.

IV. Develop policies and procedures on administrative systems

• Develop administrative systems and procedures which are aligned with legislative and organizational requirements
• The procedure for each element of the administration system is explained to employees in line with policies developed
• The policies and procedures are collated into a written manual in company specific format
Time
9:00 am – 4:00 pm
Venue
Unit 201 Richbelt Tower, 17 Annapolis St., Greenhills, San Juan City, Metro Manila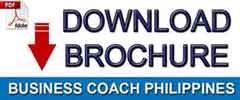 Registration Details
Seminar Fee
Php 3,000.00 per person (inclusive of snacks, lunch, seminar kit, handouts, certificate of attendance)
Discount
10% Discount if FULL AMOUNT is paid at least five (5) banking days before the event.
Reservation
Please call to register, or you may download our registration form. Kindly fill-out, and send to us through fax (727.88.60) or email. You will receive a confirmation within 48 hours.
Mode of Payment
Deposit payment at Banco de Oro, Savings Account Name: BusinessCoach, Inc. Then kindly fax deposit slip (indicate name of participant and seminar title) to confirm reservation.
On-site payment (CASH only)
Company checks are accepted, provided that they are received at least five (5) banking days before the event.
Cancellation by Attendee
Registrant may refund amount paid, with less 30% processing charge from the LISTED AMOUNT within 30 days, or opt to use the payment for a seminar of equal value within 60 days. Cancellation must be done at least 2 days before the event. Non-appearance or failure to inform us of cancellation will result to forfeiture of full amount paid.
Cancellation by BusinessCoach, Inc.
Registrant may refund full amount paid within 30 days, or may opt to use the payment for a seminar of equal value within sixty days of cancellation.
Refund Policy
Payment may be refunded upon presentation of the original copy of bank deposit slip and a valid ID. Cash refund is strictly implemented, and may be availed only at the BusinessCoach, Inc. office in San Juan City, Metro Manila. BusinessCoach, Inc. does not deposit refunds.
Note
Schedule may change without prior notice. Please call to confirm. BusinessCoach, Inc. is not liable for any expense incurred by seminar registrant resulting from cancellation of any of our events.
Contact Details
Contact Numbers
Please call (632) 727.56.28, (632) 225.66.16, or (632) 727.88.60
or call/text mobile numbers 0915.205.0133 / 0908.342.3162 / 0926.622.0768 / 0933.584.7266
Inquiries
For other inquiries, you may also leave a message in our contact form »
Testimonials
"The resource speaker was able to cover most essential part of the seminar with great citings and examples from her broad experience." – A. Manapat – K. Rubino
"The speaker is the best. She's one of those people who works and enjoys at the same time. Her energy is contagious." – M. San Agustin