Electronic Records Management
(Computerizing Records Management)
About the Seminar
Overview
It is evident everyday: information technology (IT) is changing the way people work and is transforming the global market place. Organizations are moving quickly to embrace and employ technology to ensure their competitive edge and improve efficiency, yet oftentimes without adequate regard for the records and information management needs and issues that accompany the technology. Information technology intervention in managing records (or in simple terms, automating your records management processes) is a challenging task.

Why computerize? What are the benefits? These are very valid questions and they must be answered before one can begin the process. This training will provide a basic outline to keep you focused and on track so that you can achieve your ultimate goal – Automation or Computerization! It will also enable one to develop awareness of the steps involved in designing and implementing a program to automate records management processes.

Throughout the world, offices and businesses are automating work processes to improve performance, especially in the delivery of services. A growing volume of work is being carried out electronically and may never appear on paper. Examples include information and records in databases, e-mails, word processed documents and spreadsheets, which will require new approaches to ensure their effective management. This raises another challenge: the need to manage these electronic records. This seminar will address the issues in electronic records keeping.
Objectives
This program aims to present some of the considerations of using a computer to assist in the administration of records and information in an office and to share successes and innovations from those who presently use computers to manage records.

Upon completion of the seminar, participants will be able to:

• review the general principles and practices in records management
• discover the relationship of information technology to records management
• develop an awareness of the steps in converting a manual or paper-based record keeping system to a computerized records management system
• Get a picture of the different automated records management systems
• Learn to use existing office computer applications to manage records
Who Should Participate
This seminar is intended for records officers, managers, administrative officers, staff assistants, general service officers, file custodians, clerks, documentation analysts and those involved in records-keeping and document management. This is also relevant for information technology staff who are involved in designing records management systems.
Key Topics
Module 1: Overview of Records Management

1. Definition, Purposes and Importance (What is records management?)
2. Policy and Responsibilities
3. Principles and Standard for Managing Records
4. Phases of Records

Module 2: Records Management and Information Technology

1. Understanding Information Technology
2. Relationship of Information Technology to Records Management
3. Automated Records Management Systems

Module 3: Systems Conversion

1. Conversion from Manual to Computerized Records Management

Module 4: Computer Applications for Records Management

1. Spreadsheet Format
2. Database for Records Management
Time
9:00 am – 4:00 pm
Venue
Unit 201 Richbelt Tower, 17 Annapolis St., Greenhills, San Juan City, Metro Manila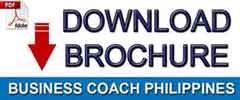 Registration Details
Seminar Fee
Php 3,000.00 per person (inclusive of snacks, lunch, seminar kit, handouts, certificate of attendance)
Discount
10% Discount if FULL AMOUNT is paid at least five (5) banking days before the event.
Reservation
Please call to register, or you may download our registration form. Kindly fill-out, and send to us through fax (727.88.60) or email. You will receive a confirmation within 48 hours.
Mode of Payment
Deposit payment at Banco de Oro, Savings Account Name: BusinessCoach, Inc. Then kindly fax deposit slip (indicate name of participant and seminar title) to confirm reservation.
On-site payment (CASH only)
Company checks are accepted, provided that they are received at least five (5) banking days before the event.
Cancellation by Attendee
Registrant may refund amount paid, with less 30% processing charge from the LISTED AMOUNT within 30 days, or opt to use the payment for a seminar of equal value within 60 days. Cancellation must be done at least 2 days before the event. Non-appearance or failure to inform us of cancellation will result to forfeiture of full amount paid.
Cancellation by BusinessCoach, Inc.
Registrant may refund full amount paid within 30 days, or may opt to use the payment for a seminar of equal value within sixty days of cancellation.
Refund Policy
Payment may be refunded upon presentation of the original copy of bank deposit slip and a valid ID. Cash refund is strictly implemented, and may be availed only at the BusinessCoach, Inc. office in San Juan City, Metro Manila. BusinessCoach, Inc. does not deposit refunds.
Note
Schedule may change without prior notice. Please call to confirm. BusinessCoach, Inc. is not liable for any expense incurred by seminar registrant resulting from cancellation of any of our events.
Contact Details
Contact Numbers
Please call (632) 727.56.28, (632) 225.66.16, or (632) 727.88.60
or call/text mobile numbers 0915.205.0133 / 0908.342.3162 / 0926.622.0768 / 0933.584.7266
Inquiries
For other inquiries, you may also leave a message in our contact form »