Events Management Training
About the Seminar
Overview
Events management is one of the best business opportunities for the aspiring entrepreneur. Needing only a small capital, this creative and exciting venture has the potential for unlimited income. This excellent events management course is also highly recommended for those who are tasked by companies to organize their in-house events.
Objectives
• To learn events planning and organizing
• To know how to get sponsors for your events
• To enhance your skills and knowledge in event promotion
• To know how to select, negotiate and coordinate with suppliers
• To learn how to market your events
Who Should Participate
Those who want to put up an events management business, events managers and staff, managers or supervisors tasked to organize in-house events, students of related courses, and entrepreneurs.
Key Topics
I. What is events management?
II. Profit potential in different types of events
III. Designing events that will impress clients
IV. Stages in events management services
V. Organizing your event management team
VI. How to market or promote your events
Using internet marketing and social media – Facebook, Twitter, blogs, etc.
Press releases
Paid advertisements
Other marketing techniques
VII. Getting the best sponsors for the event
Presenting and pricing – the benefits of sponsorship
The different ways of sponsoring (cash, x-deals, etc.)
Sample contracts for sponsors
VIII. Dealing with suppliers
Tips on handling and sourcing suppliers
Sample supplier contracts
IX. Financial aspects of event management
Estimating the cost or budget of the event
Return on investment
X. Risk management
XI. Safety and security
XII. Tips on event protocols
XIII. Professional trade secrets
XIV. How to make a business proposal to potential clients
Sample proposals
Sample contracts
Closing the sale
Time
9:00 am – 4:00 pm
Venue
Unit 201 Richbelt Tower, 17 Annapolis St., Greenhills, San Juan City, Metro Manila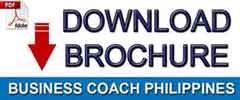 Registration Details
Seminar Fee
Php 3,000.00 per person (inclusive of snacks, lunch, seminar kit, handouts, certificate of attendance)
Discount
10% Discount if FULL AMOUNT is paid at least five (5) banking days before the event.
Reservation
Please call to register, or you may download our registration form. Kindly fill-out, and send to us through fax (727.88.60) or email. You will receive a confirmation within 48 hours.
Mode of Payment
Deposit payment at Banco de Oro, Savings Account Name: BusinessCoach, Inc. Then kindly fax deposit slip (indicate name of participant and seminar title) to confirm reservation.
On-site payment (CASH only)
Company checks are accepted, provided that they are received at least five (5) banking days before the event.
Cancellation by Attendee
Registrant may refund amount paid, with less 30% processing charge from the LISTED AMOUNT within 30 days, or opt to use the payment for a seminar of equal value within 60 days. Cancellation must be done at least 2 days before the event. Non-appearance or failure to inform us of cancellation will result to forfeiture of full amount paid.
Cancellation by BusinessCoach, Inc.
Registrant may refund full amount paid within 30 days, or may opt to use the payment for a seminar of equal value within sixty days of cancellation.
Refund Policy
Payment may be refunded upon presentation of the original copy of bank deposit slip and a valid ID. Cash refund is strictly implemented, and may be availed only at the BusinessCoach, Inc. office in San Juan City, Metro Manila. BusinessCoach, Inc. does not deposit refunds.
Note
Schedule may change without prior notice. Please call to confirm. BusinessCoach, Inc. is not liable for any expense incurred by seminar registrant resulting from cancellation of any of our events.
Contact Details
Contact Numbers
Please call (632) 727.56.28, (632) 225.66.16, or (632) 727.88.60
or call/text mobile numbers 0915.205.0133 / 0908.342.3162 / 0926.622.0768 / 0933.584.7266
Inquiries
For other inquiries, you may also leave a message in our contact form »
Testimonials
• "Very good!" – C. Turingan
• "I would strongly recommend this training for those people who have zero knowledge about events management, and for those people who want to further expand and refresh their knowledge about having a successful events management." – J. Gaurano
• "Very good speaker. He really knows what he's talking about." – J. Lopez
• "Excellent job!" – J. Espina
• "Great speaker. Very nice and funny." – A. Javellana
• "The seminar was well-organized. The speaker was very knowledgeable and experienced." – B. Borja
• "Overall rating – Excellent." – R. Destriza
• "I'm glad to have attended this seminar." – M. Laurencio
• "The way the speaker delivers is very simple, and yet has a high impact and is full of sense!" – M. Estacio
• "You did your job well, especially in getting a great speaker" – M. Montalban