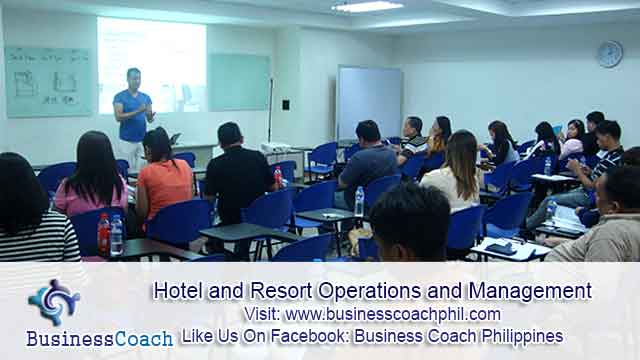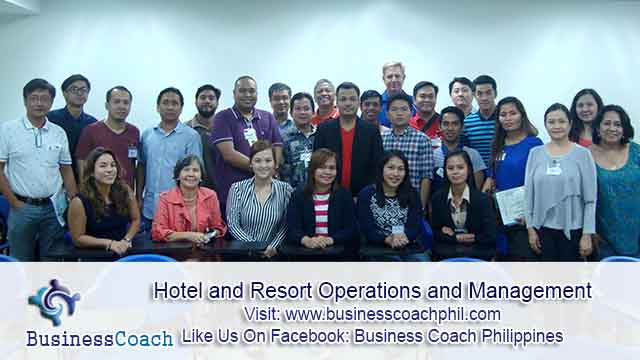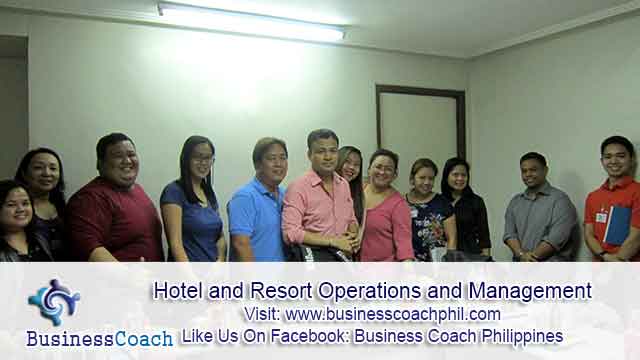 Hotel and Resort Operations and Management
About the Seminar
Overview
This is a highly instructive short course on the basics of operating a hotel or resort type business. It is an excellent introduction for those new to the business. However, even those with years of experience would find the seminar as a great refresher. A lot of vital topics are to be discussed, from handling reservations and front office management, to housekeeping and marketing.
Objectives
• To have a basic knowledge in operating and managing a hotel or resort
• To serve as a refresher course for those already experienced in the business
Who Should Participate
Owners, Managers, Supervisors, or Staffs of:

• Hotels
• Resorts (with check-ins)
• Condotels
• Apartelles
Key Topics
I. Reservation

II. Front Office

a. Reception
b. Airport Representative
c. Registration
d. Room rates
e. Types of guest rooms
f. Auditing of daily transactions
g. Guest accounts
h. Reservations and cancellations
i. Other guest services
j. Check-outs
k. Rejection of accommodation

III. Housekeeping

a. Area cleaning
b. Guest rooms and suites
c. Cleaning supplies
d. Linen control
e. Sanitation and safety

IV. Staffing Requirements (Manager, Supervisors, Chambermaids, Room Attendants, Linen and Laundry Staffs, Area Cleaners, etc.)

V. Other Services (Laundry, Valet, Baby-Sitting)

VI. Graveyard Shift Operations

VII. Purchasing and Inventory of Supplies

VIII. Controls

IX. Food and Beverage

X. Sales and Marketing

XI. Repairs and Maintenance

XII. The Butler Concept

XIII. Situations / Cases (Fire, Earthquake, Brawling, Public Disturbance, Noise, etc.)
Time
9:00 am – 4:00 pm
Venue
Unit 201 Richbelt Tower, 17 Annapolis St., Greenhills, San Juan City, Metro Manila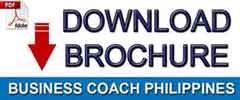 Registration Details
Seminar Fee
Php 3,000.00 per person (inclusive of snacks, lunch, seminar kit, handouts, certificate of attendance)
Discount
10% Discount if FULL AMOUNT is paid at least five (5) banking days before the event.
Reservation
Please call to register, or you may download our registration form. Kindly fill-out, and send to us through fax (727.88.60) or email. You will receive a confirmation within 48 hours.
Mode of Payment
Deposit payment at Banco de Oro, Savings Account Name: BusinessCoach, Inc. Then kindly fax deposit slip (indicate name of participant and seminar title) to confirm reservation.
On-site payment (CASH only)
Company checks are accepted, provided that they are received at least five (5) banking days before the event.
Cancellation by Attendee
Registrant may refund amount paid, with less 30% processing charge from the LISTED AMOUNT within 30 days, or opt to use the payment for a seminar of equal value within 60 days. Cancellation must be done at least 2 days before the event. Non-appearance or failure to inform us of cancellation will result to forfeiture of full amount paid.
Cancellation by BusinessCoach, Inc.
Registrant may refund full amount paid within 30 days, or may opt to use the payment for a seminar of equal value within sixty days of cancellation.
Refund Policy
Payment may be refunded upon presentation of the original copy of bank deposit slip and a valid ID. Cash refund is strictly implemented, and may be availed only at the BusinessCoach, Inc. office in San Juan City, Metro Manila. BusinessCoach, Inc. does not deposit refunds.
Note
Schedule may change without prior notice. Please call to confirm. BusinessCoach, Inc. is not liable for any expense incurred by seminar registrant resulting from cancellation of any of our events.
Contact Details
Contact Numbers
Please call (632) 727.56.28, (632) 225.66.16, or (632) 727.88.60
or call/text mobile numbers 0915.205.0133 / 0908.342.3162 / 0926.622.0768 / 0933.584.7266
Inquiries
For other inquiries, you may also leave a message in our contact form »