How to Be a Canteen Concessionaire
About the Seminar
Overview
Operating a Canteen can be a very lucrative business especially if you have a captive market. Learning the basics from a veteran in the field will greatly improve your chances of success in this venture!
Objective
To teach the participants the basics of starting and operating a Canteen Business.
Who Should Participate
Prospective Canteen Operators
Key Topics
I. Introduction – Comparison between a RESTAURANT and CANTEEN

II. Classifications of Canteen Concessions:
A. School Canteen
B. Company Office Canteen (White Collar)
C. Industrial (Blue Collar)

III. Getting into the Canteen Concession Business
A. Copy of Canteen Fact Sheet
1. Capacity (number of seats)
2. Number of Shifts
3. Number of Employees per Shift
4. Terms and Conditions
a. Gas Fuel
b. Rental
c. Service Equipment
d. Manner of Payments (Cash or Tickets)
e. Performance Bond

B. Bidding Proposal Requirements
1. Your Company Profile
2. Letter of Proposal
a. Previous and Current Clientele
b. Experience in Catering
3. DTI Req.
4. SEC
5. 30-day Menu Cycle

IV. Getting Ready to Start
A. Planning and Organizing
1. Organizational Set-up, Existing Position and Job Description
2. Rules and Regulations
3. Hiring of Staff and Scheduling
4. Office, Production and Service Set-up
5. Training of Staff
6. Performance Evaluation

B. Implementation
1. Menu Planning
2. Costing
3. Sourcing of Supplies
4. Purchasing
5. Receiving and Storing: How to Establish Parstock
6. Preparation
7. Service
8. Inventory
9. Accounting

V. Monitoring

A. Preparation of Profit and Loss
B. Total Customers Satisfaction
C. Food Cost Attainment
D. Popularity Index
E. Losses and Breakage
F. PR and Coordination with Canteen Committee and Company Union Officers
Time
9:00 am – 4:00 pm
Venue
Unit 201 Richbelt Tower, 17 Annapolis St., Greenhills, San Juan City, Metro Manila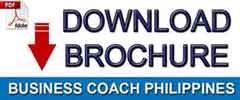 Registration Details
Seminar Fee
Php 3,000.00 per person (inclusive of snacks, lunch, seminar kit, handouts, certificate of attendance)
Discount
10% Discount if FULL AMOUNT is paid at least five (5) banking days before the event.
Reservation
Please call to register, or you may download our registration form. Kindly fill-out, and send to us through fax (727.88.60) or email. You will receive a confirmation within 48 hours.
Mode of Payment
Deposit payment at Banco de Oro, Savings Account Name: BusinessCoach, Inc. Then kindly fax deposit slip (indicate name of participant and seminar title) to confirm reservation.
On-site payment (CASH only)
Company checks are accepted, provided that they are received at least five (5) banking days before the event.
Cancellation by Attendee
Registrant may refund amount paid, with less 30% processing charge from the LISTED AMOUNT within 30 days, or opt to use the payment for a seminar of equal value within 60 days. Cancellation must be done at least 2 days before the event. Non-appearance or failure to inform us of cancellation will result to forfeiture of full amount paid.
Cancellation by BusinessCoach, Inc.
Registrant may refund full amount paid within 30 days, or may opt to use the payment for a seminar of equal value within sixty days of cancellation.
Refund Policy
Payment may be refunded upon presentation of the original copy of bank deposit slip and a valid ID. Cash refund is strictly implemented, and may be availed only at the BusinessCoach, Inc. office in San Juan City, Metro Manila. BusinessCoach, Inc. does not deposit refunds.
Note
Schedule may change without prior notice. Please call to confirm. BusinessCoach, Inc. is not liable for any expense incurred by seminar registrant resulting from cancellation of any of our events.
Contact Details
Contact Numbers
Please call (632) 727.56.28, (632) 225.66.16, or (632) 727.88.60
or call/text mobile numbers 0915.205.0133 / 0908.342.3162 / 0926.622.0768 / 0933.584.7266
Inquiries
For other inquiries, you may also leave a message in our contact form »
Testimonials
"Very good resource person; knows business from the ground up, and seems very sincere in sharing his expertise." – R. Cabochan
"The resource speaker is well-experienced." – A. Guinto"I am satisfied." – M. Comia
"The seminar was truly informative. It provided us the knowledge and ideas for a ready start of a canteen business." – N. Pagaduan
"Thanks! I've learned a lot." – L. Sallador
"Very good. Excellent speaker!" – J. Amargo
"The speaker is very impressive. He was able to answer all my questions about handling a canteen." – R. Guinto
Must Read! Related Articles:
Canteen Concessions are a Reliable Cash Cow »
How to Start and Operate Canteen Concessions »