How to Plan and Operate a Restaurant
About the Seminar
Overview
In this time of hardships, they say that the businesses with good potential are the ones related in the food industry. Starting a restaurant is one of them. But because the competition is cut-throat, you would want to learn how to compete effectively, and develop a strategy to position your business.
Objective
The seminar aims to give you information on how to start your own restaurant business. Specifically, it aims to teach the day-to-day operation of a restaurant; how to set up your kitchen and dining area; what equipment and inventory is needed, financial, personnel and regulatory issues, and how to market your food business venture.
Who Should Participate
those who would want to start a restaurant business
those who are looking for other business options
Key Topics
I. Introduction
II. Planning
III. Organizing
Organizational setup
Hiring staff
Production
Purchasing of supplies and materials

IV. Implementation
Training of staff
Menu planning
Costing
Sourcing of supplies
Purchasing
Receiving
Preparation
Inventory
Accounting

V. Monitoring
Preparation of profit and loss report
Actual cost per week/month
Breakages/Losses
Causes of high food cost
Menu analysis
Comparative sales: month to month
Popularity index

VI. Marketing and Promotion
Time
9:00 am – 4:00 pm
Venue
Unit 201 Richbelt Tower, 17 Annapolis St., Greenhills, San Juan City, Metro Manila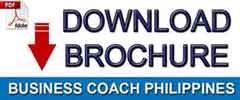 Registration Details
Seminar Fee
Php 3,000.00 per person (inclusive of snacks, lunch, seminar kit, handouts, certificate of attendance)
Discount
10% Discount if FULL AMOUNT is paid at least five (5) banking days before the event.
Reservation
Please call to register, or you may download our registration form. Kindly fill-out, and send to us through fax (727.88.60) or email. You will receive a confirmation within 48 hours.
Mode of Payment
Deposit payment at Banco de Oro, Savings Account Name: BusinessCoach, Inc. Then kindly fax deposit slip (indicate name of participant and seminar title) to confirm reservation.
On-site payment (CASH only)
Company checks are accepted, provided that they are received at least five (5) banking days before the event.
Cancellation by Attendee
Registrant may refund amount paid, with less 30% processing charge from the LISTED AMOUNT within 30 days, or opt to use the payment for a seminar of equal value within 60 days. Cancellation must be done at least 2 days before the event. Non-appearance or failure to inform us of cancellation will result to forfeiture of full amount paid.
Cancellation by BusinessCoach, Inc.
Registrant may refund full amount paid within 30 days, or may opt to use the payment for a seminar of equal value within sixty days of cancellation.
Refund Policy
Payment may be refunded upon presentation of the original copy of bank deposit slip and a valid ID. Cash refund is strictly implemented, and may be availed only at the BusinessCoach, Inc. office in San Juan City, Metro Manila. BusinessCoach, Inc. does not deposit refunds.
Note
Schedule may change without prior notice. Please call to confirm. BusinessCoach, Inc. is not liable for any expense incurred by seminar registrant resulting from cancellation of any of our events.
Contact Details
Contact Numbers
Please call (632) 727.56.28, (632) 225.66.16, or (632) 727.88.60
or call/text mobile numbers 0915.205.0133 / 0908.342.3162 / 0926.622.0768 / 0933.584.7266
Inquiries
For other inquiries, you may also leave a message in our
contact form
.
Testimonials
"The speaker was very helpful. His knowledge and experience on the said topic is excellent…But aside from his knowledge, his execution and the way he teaches it is top notch." – M. Allarilla
"The speaker is suitable for the seminar with his vast array of experience and sense of humor." – J. Gatpayat
"The speaker was able to address all of the participant's questions. He was also able to give actual examples relevant to the topic." – G. Dela Pena
"The seminar is very good!" – G. De Leon
"Very helpful for the inexperienced who would want to set-up his/her own business." – R. Blanco
"Everything was more than I expected to know or learn." – F. Mangawang
"I really love the way the speaker tackled the topic. He is very informed, and knows the topic very well. I understand clearly what he was saying. Overall, the seminar was informative, understandable, and fun!" – R. Abendan