How to Plan and Start a Business
About the Seminar
Overview
This seminar is primarily for those who are new to starting a business. The topics range from your preparedness to go into business, legal requirements, and other basic functions in operating a business.
Objectives
• To gauge your preparedness to go into business
• To guide you on what is the most suitable business
• To teach the participants the basic legal requirements
• To give you an overview on how to operate a business
Who Should Participate
Those who want to start a small or medium sized business.
Key Topics
I. Are you ready to be an entrepreneur?

II. What business is right for you? – Self-assessment
• Personal capabilities and weaknesses
• Assets you currently have – property, contacts, etc.

III. Different types of businesses – Advantages and disadvantages of each type
• Sole Proprietor
• Partnership
• Corporation

IV. Business research and business planning

V. SWOT analysis for business

VI. Freelance and home-based businesses

VII. Required capitalization
• Capital expenditures (equipment, inventory, renovation, lease deposit, etc.)
• Operating expenses (rental, payroll, electricity, utilities, receivables and etc.)

VIII. Finding the right location
• Determining your target market
• Proximity of customers and suppliers
• Zoning and presence of needed facilities
• Negotiating your lease contract

IX. Manpower requirements
• Selection and recruitment process
• Computing wages and salaries
• Basic labor laws you must know

X. Equipment required
• Determine capacity and other requirements
• Lease or buy?
• Other considerations

XI. Locating the best suppliers

XII. Basic business permits and licenses

XIII. Different government agencies accreditation
• Barangay, DTI, SEC, BIR, City Hall or municipal office, SSS, Philhealth, Pag Ibig, DOLE, etc.

XIV. Bookkeeping and taxation – What and when you must record, file and pay.
• Journals, ledgers, and financial statements
• VAT and other taxes

XV. Marketing strategies (On-line, joining trade fairs, social networking)

XVI. Seeking further help
• Business associations
• Consultants
Time
9:00 am – 4:00 pm
Venue
Unit 201 Richbelt Tower, 17 Annapolis St., Greenhills, San Juan City, Metro Manila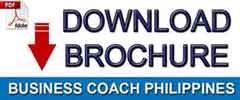 Registration Details
Seminar Fee
Php 3,000.00 per person (inclusive of snacks, lunch, seminar kit, handouts, certificate of attendance)
Discount
10% Discount if FULL AMOUNT is paid at least five (5) banking days before the event.
Reservation
Please call to register, or you may download our registration form. Kindly fill-out, and send to us through fax (727.88.60) or email. You will receive a confirmation within 48 hours.
Mode of Payment
Deposit payment at Banco de Oro, Savings Account Name: BusinessCoach, Inc. Then kindly fax deposit slip (indicate name of participant and seminar title) to confirm reservation.
On-site payment (CASH only)
Company checks are accepted, provided that they are received at least five (5) banking days before the event.
Cancellation by Attendee
Registrant may refund amount paid, with less 30% processing charge from the LISTED AMOUNT within 30 days, or opt to use the payment for a seminar of equal value within 60 days. Cancellation must be done at least 2 days before the event. Non-appearance or failure to inform us of cancellation will result to forfeiture of full amount paid.
Cancellation by BusinessCoach, Inc.
Registrant may refund full amount paid within 30 days, or may opt to use the payment for a seminar of equal value within sixty days of cancellation.
Refund Policy
Payment may be refunded upon presentation of the original copy of bank deposit slip and a valid ID. Cash refund is strictly implemented, and may be availed only at the BusinessCoach, Inc. office in San Juan City, Metro Manila. BusinessCoach, Inc. does not deposit refunds.
Note
Schedule may change without prior notice. Please call to confirm. BusinessCoach, Inc. is not liable for any expense incurred by seminar registrant resulting from cancellation of any of our events.
Contact Details
Contact Numbers
Please call (632) 727.56.28, (632) 225.66.16, or (632) 727.88.60
or call/text mobile numbers 0915.205.0133 / 0908.342.3162 / 0926.622.0768 / 0933.584.7266
Inquiries
For other inquiries, you may also leave a message in our
contact form
.