How to Start a Balloon and Party Needs Business
About the Seminar
Overview
The balloon business coupled with other party needs is a perennial favorite because there will always be children's parties and other events that will need balloon decorating and party accessories to complete the ambiance. Needing only small capitalization it can eventually bring big profits.
Objective
To teach the participants on how to operate a balloon and party needs business and also on how to print and design the balloons themselves
Who Should Participate
Those who want to set up a Balloon and Party Needs Business
Key Topics
I. The sources of income in the party needs business
a. Balloons
b. Chairs and tables
c. Sound system
d. Party accessories (cartoon characters, masks, toys, etc.)
e. Entertainment (clowns, magicians, etc.), others
II. Acquiring business permits and licenses
a. DTI Registration
b. Barangay
c. Mayor's Permit, BIR, etc.
III. Learning about balloons
a. non-flying and Helium balloons
b. brands and types
c. sizes and characteristics
IV. Needed Capital
V. Necessary equipment /materials
a. balloon inventory
b. air compressor
c. balloon pump (manual, automatic)
d. balloon vase
e. decorative paper/cloth
f. balloon letter set
g. design stamps
h. ink and ink brush
i. readymade stamp pad logos
j. sticks and caps
k. fishing line
l. rags for cleaning-up
VI. Hands-on Balloon Decor Workshop
a. printing on the balloon
b. making the design (actual)
1. pot balloon – with balloon inside balloon
2. flower balloon
3. balloon arch and balloon pillar
4. various centerpieces
VII. Getting the right suppliers
a. balloon suppliers
b. other party needs suppliers
VIII. How to market and expand your business
a. party packages
b. calling cards and flyers
c. pictures of designs and parties conducted
d. other marketing strategies
Time
9:00 am – 4:00 pm
Venue
Unit 201 Richbelt Tower, 17 Annapolis St., Greenhills, San Juan City, Metro Manila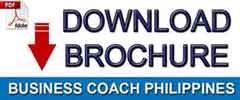 Registration Details
Seminar Fee
Php 3,000.00 per person (inclusive of snacks, lunch, seminar kit, handouts, certificate of attendance)
Discount
10% Discount if FULL AMOUNT is paid at least five (5) banking days before the event.
Reservation
Please call to register, or you may download our registration form. Kindly fill-out, and send to us through fax (727.88.60) or email. You will receive a confirmation within 48 hours.
Mode of Payment
Deposit payment at Banco de Oro, Savings Account Name: BusinessCoach, Inc. Then kindly fax deposit slip (indicate name of participant and seminar title) to confirm reservation.
On-site payment (CASH only)
Company checks are accepted, provided that they are received at least five (5) banking days before the event.
Cancellation by Attendee
Registrant may refund amount paid, with less 30% processing charge from the LISTED AMOUNT within 30 days, or opt to use the payment for a seminar of equal value within 60 days. Cancellation must be done at least 2 days before the event. Non-appearance or failure to inform us of cancellation will result to forfeiture of full amount paid.
Cancellation by BusinessCoach, Inc.
Registrant may refund full amount paid within 30 days, or may opt to use the payment for a seminar of equal value within sixty days of cancellation.
Refund Policy
Payment may be refunded upon presentation of the original copy of bank deposit slip and a valid ID. Cash refund is strictly implemented, and may be availed only at the BusinessCoach, Inc. office in San Juan City, Metro Manila. BusinessCoach, Inc. does not deposit refunds.
Note
Schedule may change without prior notice. Please call to confirm. BusinessCoach, Inc. is not liable for any expense incurred by seminar registrant resulting from cancellation of any of our events.
Contact Details
Contact Numbers
Please call (632) 727.56.28, (632) 225.66.16, or (632) 727.88.60
or call/text mobile numbers 0915.205.0133 / 0908.342.3162 / 0926.622.0768 / 0933.584.7266
Inquiries
For other inquiries, you may also leave a message in our contact form »
Must Read! Related Articles:
On Why Starting a Balloon Business is Easy and Profitable »
Starting a Balloon and Party Needs Business »
Balloons and Party Needs Business »
Making Profits Out Of Parties »
Testimonials
"Keep it up, business enthusiasts can really count on you guys!" – M. Reque
"The topics was clearly discussed." – L. Guinto
"The seminar was very informative. A good foundation of balloon business." – M. Diaz
"It was a very good learning experience for a beginner like me." – S. Mauricio
"I've learned a lot on how to start my own business." – J. Lasam
"Seminar is very useful in starting balloon business." – E. Ventura
"Nice seminar. I've learned so much!" – M. San Pablo
"Overall, the seminar was excellent. The seminar was very informative and fun at the same time!" – C. Jorday
"The seminar is very informative and useful. The resource speaker was able to impart her knowledge and experiences based on the subject." – C. Sandig
"Want to learn? Take your ride with Business Coach: Great!" – M. Gapultos