How to Start a Drugstore Business
About the Seminar
Overview
The Philippine market for pharmaceuticals is 110 billion pesos and since medicine is one of our basic needs, drugstores will always have sales despite the economic crisis. The seminar takes a practical approach and you will learn many trade secrets you would not find in books.
Objectives
to teach the legal requirements for opening a drugstore
to show how to get a good location for a drugstore
to explain the key functions of merchandise selection, sourcing, pricing and ordering
to teach how to operate a pharmacy profitably
Who Should Participate
Any person who wants to go into the drugstore business
Key Topics
Overview of the drugstore business. Its huge market size and growth prospects.
Registration requirements (inspections, licensing, BFAD regulations, etc.).
The functions of the Pharmacist.
Success stories. Secrets of those who made it big.
Buying a Franchise or starting a Pharmacy yourself. Learn the pros and cons.
Required capitalization for Generic drugstores, Full line stores, Counter type, and Self-service type operations.
Finding the best location. Know the location factors that affect sales.
Inventory control for a Pharmacy.
POS (Point of Sale) system. Using modern technology as a tool for inventory and personnel control and management.
The different types of Suppliers: Traders, Wholesalers, Distributors, and Principals. How to choose the lowest and best source of inventory.
Pharmacy Personnel. Who are needed and how to select and train them.
Pricing Strategy and tactics. How to set prices that will attract customers and still make a lot of profits.
Current legal issues. Coping with Senior Citizens Law and other legislated discounts.
Innovative Marketing and promotion. How to compete successfully against the large chainstores.
Errors of those who failed in the business.
How to control internal theft.
Key success factors. Planning for the future.
Time
9:00 am – 4:00 pm
Venue
Unit 201 Richbelt Tower, 17 Annapolis St., Greenhills, San Juan City, Metro Manila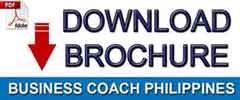 Registration Details
Seminar Fee
Php 3,000.00 per person (inclusive of snacks, lunch, seminar kit, handouts, certificate of attendance)
Discount
10% Discount if FULL AMOUNT is paid at least five (5) banking days before the event.
Reservation
Please call to register, or you may download our registration form. Kindly fill-out, and send to us through fax (727.88.60) or email. You will receive a confirmation within 48 hours.
Mode of Payment
Deposit payment at Banco de Oro, Savings Account Name: BusinessCoach, Inc. Then kindly fax deposit slip (indicate name of participant and seminar title) to confirm reservation.
On-site payment (CASH only)
Company checks are accepted, provided that they are received at least five (5) banking days before the event.
Cancellation by Attendee
Registrant may refund amount paid, with less 30% processing charge from the LISTED AMOUNT within 30 days, or opt to use the payment for a seminar of equal value within 60 days. Cancellation must be done at least 2 days before the event. Non-appearance or failure to inform us of cancellation will result to forfeiture of full amount paid.
Cancellation by BusinessCoach, Inc.
Registrant may refund full amount paid within 30 days, or may opt to use the payment for a seminar of equal value within sixty days of cancellation.
Refund Policy
Payment may be refunded upon presentation of the original copy of bank deposit slip and a valid ID. Cash refund is strictly implemented, and may be availed only at the BusinessCoach, Inc. office in San Juan City, Metro Manila. BusinessCoach, Inc. does not deposit refunds.
Note
Schedule may change without prior notice. Please call to confirm. BusinessCoach, Inc. is not liable for any expense incurred by seminar registrant resulting from cancellation of any of our events.
Contact Details
Contact Numbers
Please call (632) 727.56.28, (632) 225.66.16, or (632) 727.88.60
or call/text mobile numbers 0915.205.0133 / 0908.342.3162 / 0926.622.0768 / 0933.584.7266
Inquiries
For other inquiries, you may also leave a message in our
contact form
.
Testimonials
"The seminar gave me more confidence to put up a drugstore. The seminar was very informative and the speaker is so generous to provide very useful information." – R. Paguirigan
"Very helpful especially for young entrepreneurs like me. Gives me confidence that I can really start my drugstore business." – L. Samio
"It gave me a lot of ideas on how to improve on things that I have already planned. Thanks for holding such a great seminar." –   J. Melad
"I really liked the discussion since it was applied to real experience from the speaker himself as well as some of the people who attended the seminar." – J. Sacdalan
"Very informative speaker. Being in the drugstore business for so long, he discussed not only the legal matters but also insider information regarding the business." – J. Babsa-ay
"We can start a drugstore soon." – J. Ebora
"The seminar gives me a more positive outlook to push through my goal/business. Very informative!" – F. Agonia
"Excellent. Nothing to improve." – M. Bugag
"Very informative. It's a must for all those who want to open a drugstore." – W. Lee