How to Start a Micro-Lending Business
About the Seminar
Overview
During these hard times, a lot of people would seek the help of those engaged in micro lending. It's one way to help support their families, and to ease poverty. A good system is needed to operate this business. This seminar is highly recommended if you want to engage in this business.
Objective
The seminar aims to teach the actual and potential income in micro-lending business. Specifically, it aims to cover the logistics and strategies to operate your own firm.
Who Should Participate
The seminar is designed for those who would want to engage in the micro-lending business.
Key Topics
I. Introduction

• Background
• Definition (lending, micro-lending, interest, service charge, collateral, rebates, offsetting, fees, mode and terms of payments, annotation)
• Trends

II. Important Matters to Consider

• Initial capital required
• Market study (target market, area, office location layout and structure, business trends, crime rate, competition, culture, local government policies and regulations)
• Legal requirements and legal aspects
• Human resource requirements
• Complete manual of operation (organizational structure, loan products, flow of operation, accounting system, human resources, company policies and guidelines)
• Capital expenditures and pre-operating expenses
• Business and marketing plan (projections, strategies and promotions, plan of actions)
• Gantt chart

III. Elements of good character and loan evaluation

IV. Collection and monitoring

V. Delinquency analysis and management

• Systematic and strategic approach
• Legal remedies and solutions

VI. Profitability and progress

• Return of equity
• Portfolio management
• Investments
• Decision making
• Human resources

VII. Reminders and tips

• Business ethics
• Integrity
• S.I.R.
• Social responsibility
• Purpose
• Balance
Time
9:00 am – 4:00 pm
Venue
Unit 201 Richbelt Tower, 17 Annapolis St., Greenhills, San Juan City, Metro Manila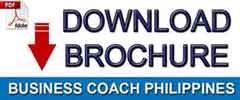 Registration Details
Seminar Fee
Php 3,000.00 per person (inclusive of snacks, lunch, seminar kit, handouts, certificate of attendance)
Discount
10% Discount if FULL AMOUNT is paid at least five (5) banking days before the event.
Reservation
Please call to register, or you may download our registration form. Kindly fill-out, and send to us through fax (727.88.60) or email. You will receive a confirmation within 48 hours.
Mode of Payment
Deposit payment at Banco de Oro, Savings Account Name: BusinessCoach, Inc. Then kindly fax deposit slip (indicate name of participant and seminar title) to confirm reservation.
On-site payment (CASH only)
Company checks are accepted, provided that they are received at least five (5) banking days before the event.
Cancellation by Attendee
Registrant may refund amount paid, with less 30% processing charge from the LISTED AMOUNT within 30 days, or opt to use the payment for a seminar of equal value within 60 days. Cancellation must be done at least 2 days before the event. Non-appearance or failure to inform us of cancellation will result to forfeiture of full amount paid.
Cancellation by BusinessCoach, Inc.
Registrant may refund full amount paid within 30 days, or may opt to use the payment for a seminar of equal value within sixty days of cancellation.
Refund Policy
Payment may be refunded upon presentation of the original copy of bank deposit slip and a valid ID. Cash refund is strictly implemented, and may be availed only at the BusinessCoach, Inc. office in San Juan City, Metro Manila. BusinessCoach, Inc. does not deposit refunds.
Note
Schedule may change without prior notice. Please call to confirm. BusinessCoach, Inc. is not liable for any expense incurred by seminar registrant resulting from cancellation of any of our events.
Contact Details
Contact Numbers
Please call (632) 727.56.28, (632) 225.66.16, or (632) 727.88.60
or call/text mobile numbers 0915.205.0133 / 0908.342.3162 / 0926.622.0768 / 0933.584.7266
Inquiries
For other inquiries, you may also leave a message in our contact form »
Testimonials
"Resource speaker was very knowledgeable and experienced." – M. Paguio
"The speaker is well-versed and has a vast experience to share with, in terms of micro lending. Satisfied with the inclusives – food, manuals, etc. Nice job!" – R. De Asis