How to Start a Trucking Business
About the Seminar
Objective
• To enable the participants to have the knowledge on how to start a trucking business.
Who Should Participate
• Persons who own an AUV or any service vehicle and looking to start a new business.
• Employees in the Shipping or Transport department of a manufacturing or distribution company and considering being self-employed.
• OFW or any individual wanting to take advantage of the growing shortage of trucks serving the fast-growing Philippine Retail Industry.
Key Topics
I. 4 Reasons why the trucking business is a good business

a. Growth of the Philippine retail industry
b. How is the cargo transport industry in the Philippines
c. Who are the major players in the logistics industry
d. Why is there not enough trucks

II. How to make money in the trucking business

a. 5 types of truckers or logistic providers
b. How to market your trucking business

III. Legal requirements

a. DTI and BIR
b. LTFRB
c. LTO
d. Local Government Unit

IV. How much investment do i need

a. CAPEX
b. Working capital
c. Net income to sales

V. Operations

a. What kind of trucks to buy
b. Do I need a garage
c. What is a coordinator
d. Motorpool management
e. Communications
f. What is clearing and document transmittal
g. Billing your clients
h. Paying your suppliers

VI. Human resources

a. Who are the two most important advisers to have in a trucking business
b. Recruitment

VII. Security

a. Managing risks
b. Setting policies and procedures

VIII. Insurance

a. Types of insurance coverages
b. Read your insurance policy
c. How to deal with insurance companies
i. What can I claim

IX. Contract

a. How to read a trucking or hauling contract
b. Client performance metrics
c. How to deal with supermarkets
d. Penalties

X. Costings

a. How to bill your client
i. What is a template
b. Walking the walk
Time
9:00 am – 4:00 pm
Venue
Unit 201 Richbelt Tower, 17 Annapolis St., Greenhills, San Juan City, Metro Manila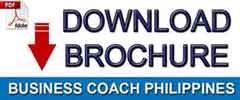 Registration Details
Seminar Fee
Php 3,000.00 per person (inclusive of snacks, lunch, seminar kit, handouts, certificate of attendance)
Discount
10% Discount if FULL AMOUNT is paid at least five (5) banking days before the event.
Reservation
Please call to register, or you may download our registration form. Kindly fill-out, and send to us through fax (727.88.60) or email. You will receive a confirmation within 48 hours.
Mode of Payment
Deposit payment at Banco de Oro, Savings Account Name: BusinessCoach, Inc. Then kindly fax deposit slip (indicate name of participant and seminar title) to confirm reservation.
On-site payment (CASH only)
Company checks are accepted, provided that they are received at least five (5) banking days before the event.
Cancellation by Attendee
Registrant may refund amount paid, with less 30% processing charge from the LISTED AMOUNT within 30 days, or opt to use the payment for a seminar of equal value within 60 days. Cancellation must be done at least 2 days before the event. Non-appearance or failure to inform us of cancellation will result to forfeiture of full amount paid.
Cancellation by BusinessCoach, Inc.
Registrant may refund full amount paid within 30 days, or may opt to use the payment for a seminar of equal value within sixty days of cancellation.
Refund Policy
Payment may be refunded upon presentation of the original copy of bank deposit slip and a valid ID. Cash refund is strictly implemented, and may be availed only at the BusinessCoach, Inc. office in San Juan City, Metro Manila. BusinessCoach, Inc. does not deposit refunds.
Note
Schedule may change without prior notice. Please call to confirm. BusinessCoach, Inc. is not liable for any expense incurred by seminar registrant resulting from cancellation of any of our events.
Contact Details
Contact Numbers
Please call (632) 727.56.28, (632) 225.66.16, or (632) 727.88.60
or call/text mobile numbers 0915.205.0133 / 0908.342.3162 / 0926.622.0768 / 0933.584.7266
Inquiries
For other inquiries, you may also leave a message in our contact form »