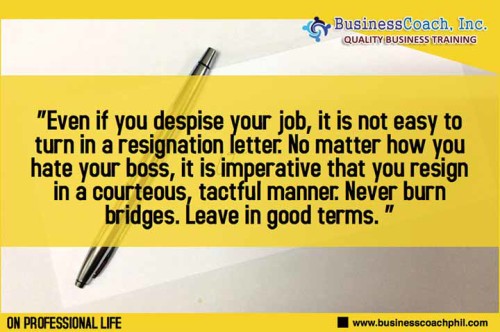 I Resign! How to Quit Your Job Professionally
You may probably be thinking about resigning from your job. However, before doing so, you must think of this a couple of times. It is shameful to resign, and beg to be taken back by your employer, once you realize you are wrong. In most cases, this is irreversible.

So you have finally made up your mind. You are resigning anytime soon, but kindly consider the following before saying adieu!

• Make sure you have a new job. If someone offered you a position, ask if you may first see the contract. Study the counter-proposal, and make sure that it is a better deal for you. However, if you don't have any job offer, make sure you have enough savings, as sometimes it takes months (even years for some!) to find a new job.

• Carefully prepare a resignation letter. Make sure you address it to your immediate boss, and provide a copy to your HR officer. Have it printed on a clean sheet of paper. Never write anything negative in the letter, no matter how much you hate your devilish boss and co-workers. Remember, you still need your boss's recommendation letter, or you might have to go back to get certain certifications! Remember, also, you are not compelled to tell your boss the reason for your resignation. Just inform them of the date of its effectivity, and say thank you for all the skills and lessons learned.

• Refrain from tendering resignation that is effective immediately. Give at least thirty (30) days' notice, to give enough time for your boss to hire your replacement. Besides this, the 30 days' notice is a legal requirement.

• Never brag about transferring to a better company. Your letter should be short and straight. As much as possible maintain a positive relationship with your boss and colleagues.

• Make the transition easier for your replacement. If there's enough time, train and orient the new employee.

• Before resigning, try to finish all tasks assigned to you. Never leave a project hanging, especially if this would hurt the company, or may have a negative effect on its sales or production. Be productive until your last day in the company.

• Maintain your good ties with your boss and co-employees. Never bad mouth anybody in the office, as this will leave a bad impression, and may lead to your employer not giving you a good recommendation.

• Be prepared for your boss's reaction. There are some who would make a counter-offer. Make sure you know how you would react to that, and what terms you would accept to stay. On the other hand, there are some employers who will feel bad and take it against you when you resign. Some will immediately dismiss you upon receipt of your resignation. In this case, make sure you have already gathered your personal things (or deleted your personal files from your computer!), so you may be able to leave immediately when asked. Although, there are some who would ask you to stay a little longer (say another 2 weeks or 1 month). In this case, never feel guilty to say no. Your new employer may already be waiting for you to start work as soon as possible.

• Compute your remaining salary and benefits. Check if you still have unused leaves and other unpaid benefits. Total everything, including your 13th month pay and other bonuses.

• Return all company assets, equipments or materials assigned to you. Avoid unnecessary litigation. Make sure you turn over everything that belongs to the company, such as their laptop, cellphone, company car, and even confidential documents.

• Remain polite and professional during the exit interview. Even if you wanted to shout or curse the interviewer, maintain your grace and poise. Dwell on the positive things you have learned from the company.

Even if you despise your job, it is not easy to turn in a resignation letter. No matter how you hate your boss, it is imperative that you resign in a courteous, tactful manner. Never burn bridges. If you leave, leave in good terms.

Be wary. Your resignation letter will be placed along with your 201 Files. It will be kept by the company, and whatever you have written there will be used for and against you. If you decide to move on, there is actually no point in criticizing your boss or the company. Wish them well, and be civil. Good luck on your new job!

*Originally published by the Manila Bulletin. Written by Ruben Anlacan, Jr. (President, BusinessCoach, Inc.) All rights reserved. May not be reproduced or copied without express written permission of the copyright holders.