Improving Performance Using Balanced Scorecard
About the Seminar
Overview
What exactly is a Balanced Scorecard? A definition often quoted is: "A strategic planning and management system used to align business activities to the vision statement of an organization". A Balanced Scorecard attempts to translate the company's vision and mission statements into the practicalities of managing the business better at every level and translate them into operational objectives that drive both performance and behavior.

This one-day Balanced Scorecard session covers the processes of building, implementing and using a Balanced Business Scorecard to improve performance. Attendance in this one-day session will result in individuals increasing their knowledge, skills and experience in the use of the Balanced Scorecard.
Objectives
• Understand the use and contribution of Balanced Scorecard (BSC) in business
• Learn how to apply BSC in creating and implementing business strategies
• Design and build a Balanced Scorecard
Who Should Participate
Anyone who is working in an office environment and anyone who is involved & responsible for any functions or responsibilities within an organization (e.g. managers, supervisors, staff, etc.) may attend. Professionals ranging from those with little or no experience of the Balanced Scorecard approach and to those already implementing BSC are welcome on this session. The added value of the seminar is in showing how to best use the Balanced Scorecard methodology in maximizing the effect of their work within their organization. There are no prerequisites for this course.
Key Topics
Module 1 – Introduction to Balanced Scorecard

1. What Balanced Scorecard is:
• The Development and History of Balanced Scorecard
• Terminologies Used in Balanced Scorecard
• The Cause and Effect process

2. Use of Balanced Scorecard in Business
• Use in Strategic Planning
• Use in Business Strategy
• Use in Performance Management

3. Balanced Scorecard Perspectives
• Financial Perspective
• Customer Perspective
• Business Process Perspective
• Learning and Growth Perspective

Module 2 – Building the Balanced Scorecard

1. Business Strategic themes
• Organizational Effectiveness
• Organizational Efficiency
• Performance Management

2. Balanced Scorecard Strategy Maps

3. Creating and Aligning the Organization to the Balanced Scorecard strategy
Time
9:00 am – 4:00 pm
Venue
Unit 201 Richbelt Tower, 17 Annapolis St., Greenhills, San Juan City, Metro Manila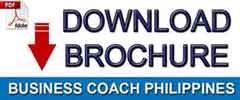 Registration Details
Seminar Fee
Php 3,000.00 per person (inclusive of snacks, lunch, seminar kit, handouts, certificate of attendance)
Discount
10% Discount if FULL AMOUNT is paid at least five (5) banking days before the event.
Reservation
Please call to register, or you may download our registration form. Kindly fill-out, and send to us through fax (727.88.60) or email. You will receive a confirmation within 48 hours.
Mode of Payment
Deposit payment at Banco de Oro, Savings Account Name: BusinessCoach, Inc. Then kindly fax deposit slip (indicate name of participant and seminar title) to confirm reservation.
On-site payment (CASH only)
Company checks are accepted, provided that they are received at least five (5) banking days before the event.
Cancellation by Attendee
Registrant may refund amount paid, with less 30% processing charge from the LISTED AMOUNT within 30 days, or opt to use the payment for a seminar of equal value within 60 days. Cancellation must be done at least 2 days before the event. Non-appearance or failure to inform us of cancellation will result to forfeiture of full amount paid.
Cancellation by BusinessCoach, Inc.
Registrant may refund full amount paid within 30 days, or may opt to use the payment for a seminar of equal value within sixty days of cancellation.
Refund Policy
Payment may be refunded upon presentation of the original copy of bank deposit slip and a valid ID. Cash refund is strictly implemented, and may be availed only at the BusinessCoach, Inc. office in San Juan City, Metro Manila. BusinessCoach, Inc. does not deposit refunds.
Note
Schedule may change without prior notice. Please call to confirm. BusinessCoach, Inc. is not liable for any expense incurred by seminar registrant resulting from cancellation of any of our events.
Contact Details
Contact Numbers
Please call (632) 727.56.28, (632) 225.66.16, or (632) 727.88.60
or call/text mobile numbers 0915.205.0133 / 0908.342.3162 / 0926.622.0768 / 0933.584.7266
Inquiries
For other inquiries, you may also leave a message in our contact form »