Internet Marketing Seminar
About the Seminar
Overview
Selling online provides the greatest amount of potential income. It is practical and cost-effective. It can be done by students, housewives, and almost anybody.
Objective
The seminar aims to teach the attendees how to earn via the Internet. Specifically, it teaches how to sell products online, and make your company visible on the Web.
Who Should Participate
students
businessmen who want to market their products online
those seeking a home-based business
Key Topics
1. Introduction
a. Internet Population in the Philippines
b. Success Stories – Online Businesses

2. Basic consideration
a. The Internet and Marketing Concepts
b. Advantages of Internet Marketing
c. Internet Marketing Requirements
Domain Registration
Web Hosting
Do-It-Yourself Website
Search Engine Optimization (SEO)
Online Advertising
E-commerce
Online payment Gateway
d. Recognizing Scammers
e. Importance of Creating Multiple Streams Income from Online Exposure

3. Internet Opportunities
a. Blogging
b. Advertising page/server
c. Paid Outsource Service
d. Affiliate Marketing
e. Online Selling
f. Domain Parking
g. Social Network

4. ACTIVITIES: Defining your sales process
a. How to automate your online marketing?
b. Mastering E-mail Marketing
c. Forum Marketing
d. Online Advertising
Time
9:00 am – 4:00 pm
Venue
Unit 201 Richbelt Tower, 17 Annapolis St., Greenhills, San Juan City, Metro Manila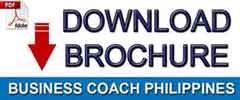 Registration Details
Seminar Fee
Php 3,000.00 per person (inclusive of snacks, lunch, seminar kit, handouts, certificate of attendance)
Discount
10% Discount if FULL AMOUNT is paid at least five (5) banking days before the event.
Reservation
Please call to register, or you may download our registration form. Kindly fill-out, and send to us through fax (727.88.60) or email. You will receive a confirmation within 48 hours.
Mode of Payment
Deposit payment at Banco de Oro, Savings Account Name: BusinessCoach, Inc. Then kindly fax deposit slip (indicate name of participant and seminar title) to confirm reservation.
On-site payment (CASH only)
Company checks are accepted, provided that they are received at least five (5) banking days before the event.
Cancellation by Attendee
Registrant may refund amount paid, with less 30% processing charge from the LISTED AMOUNT within 30 days, or opt to use the payment for a seminar of equal value within 60 days. Cancellation must be done at least 2 days before the event. Non-appearance or failure to inform us of cancellation will result to forfeiture of full amount paid.
Cancellation by BusinessCoach, Inc.
Registrant may refund full amount paid within 30 days, or may opt to use the payment for a seminar of equal value within sixty days of cancellation.
Refund Policy
Payment may be refunded upon presentation of the original copy of bank deposit slip and a valid ID. Cash refund is strictly implemented, and may be availed only at the BusinessCoach, Inc. office in San Juan City, Metro Manila. BusinessCoach, Inc. does not deposit refunds.
Note
Schedule may change without prior notice. Please call to confirm. BusinessCoach, Inc. is not liable for any expense incurred by seminar registrant resulting from cancellation of any of our events.
Contact Details
Contact Numbers
Please call (632) 727.56.28, (632) 225.66.16, or (632) 727.88.60
or call/text mobile numbers 0915.205.0133 / 0908.342.3162 / 0926.622.0768 / 0933.584.7266
Inquiries
For other inquiries, you may also leave a message in our contact form »
Testimonials
"Very clear in explaining topics. I am satisfied with the seminar." – L. Kin
"The seminar was very useful and relevant to my objectives. It was engaging, fun, and easy to understand." – J. Lagapa
"It is a marketing breakthrough for my current business." – R. Catalan
"The seminar was very educational." – M. Canon
"Excellent seminar. Friendly and accommodating instructor." – J. Jimenez
"Ok; value for money. Thank you. I learned so much." – M. Di
"The consultant was very approachable. She was clear and very knowledgeable on the subject." – W. Espardines
"Excellent seminar." – A. Sy
"Very practical knowledge, not just theoretical, the speaker was able to impart." – E. Gomera
"Interesting, lively, informative seminar." – S. Fuentes
"The speaker was brilliant and experienced, and able to deliver." – G. Marcelino
"Great! Very informative." – E. Sajonia
"Informative. Very useful." – T. Pena
"Excellent presentation." – R. Joven
"Resource speaker was very effective, down to earth and approachable.
Really excels in her topic and field." – R. Young
"Outstanding speaker. Power and prayers to you." – M. Serrano
"The speaker is very articulate and knows how to make the session very lively and participative." – R. Adriano
"I've learned a lot from the topics being discussed and I wish to attend more seminars." – L. Agudo
"Smooth flow of presentation. And I appreciate the support that is offered by the speaker even after the seminar. This value-added service is commendable." – M. Manzo
"Highly informative seminar. Applicable." – A. Ang
"Speaker was knowledgeable about the topic and was very open to share her experiences in the field of internet marketing." – Y. Ngkaion