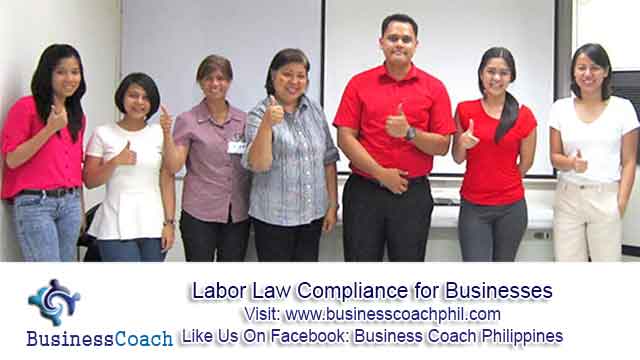 Labor Law Compliance for Businesses
About the Seminar
Overview
Entrepreneurs and professional managers are required to comply with labor laws. Otherwise, they open their businesses and even themselves personally to labor complaints and liabilities. Labor law compliance is, thus, an integral part to the administration, operations, and management of a business.
Objective
The primary aim of the seminar is to train entrepreneurs and professional managers on the various aspects of labor laws in the workplace. Further, best legal practices will be taught to provide them with the legal knowledge, skills, and techniques on how best to apply labor laws in their companies.
Who Should Participate
The seminar is designed for entrepreneurs and professional managers who are keen on improving their legal knowledge and skills on labor laws, as well as those who want to learn best legal practices to protect their businesses and companies from labor complaints and liabilities.
Key Topics
A. Labor Laws
1. 1987 Constitution
2. Labor Code
a. Labor Standards
b. Labor Relations
3. Jurisprudence/Supreme Court Decisions
4. Omnibus Rules Implementing the Labor Code/DOLE Advisories

B. Management Prerogative
1. Right of the employer to discipline an employee
2. Right of the employer to terminate an employee

C. Employment Relations
1. Employer-Employee Relationship: Four-Fold Test
2. Employee v. Independent Contractor/Job Contracting/Outsourcing

D. Kinds of Employment
1. Regular Employment
2. Probationary Employment
3. Casual Employment
4. Project Employment
5. Seasonal Employment
6. Fixed-Term Employment

E. Special Groups of Employees
1. Apprentice
2. Learner
3. Handicapped
4. Women
5. Minor
6. Househelper
7. Homeworker
8. Non-resident Alien

F. Working Conditions
1. 8-hour workday rule
i. Flexible work arrangement
ii. Compressed workweek
2. 6-day a week rule
3. 60-minute regular meal period
4. Compensable working time
5. Lectures, meetings, trainings

G. Statutory Monetary Benefits
1. Minimum wage
2. Holiday pay
3. Premium pay
4. Overtime pay
5. Night shift pay
6. Service charge
7. Service incentive leave
8. Maternity leave
9. Paternity leave
10. Parental leave
11. Leave for VAWC
12. Special leave for women
13. 13th month pay
14. Separation pay
15. Retirement pay
16. ECC benefits
17. Philhealth benefits
18. SSS benefits

H. Integration
Time
9:00 am – 4:00 pm
Venue
Unit 201 Richbelt Tower, 17 Annapolis St., Greenhills, San Juan City, Metro Manila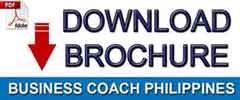 Registration Details
Seminar Fee
Php 3,000.00 per person (inclusive of snacks, lunch, seminar kit, handouts, certificate of attendance)
Discount
10% Discount if FULL AMOUNT is paid at least five (5) banking days before the event.
Reservation
Please call to register, or you may download our registration form. Kindly fill-out, and send to us through fax (727.88.60) or email. You will receive a confirmation within 48 hours.
Mode of Payment
Deposit payment at Banco de Oro, Savings Account Name: BusinessCoach, Inc. Then kindly fax deposit slip (indicate name of participant and seminar title) to confirm reservation.
On-site payment (CASH only)
Company checks are accepted, provided that they are received at least five (5) banking days before the event.
Cancellation by Attendee
Registrant may refund amount paid, with less 30% processing charge from the LISTED AMOUNT within 30 days, or opt to use the payment for a seminar of equal value within 60 days. Cancellation must be done at least 2 days before the event. Non-appearance or failure to inform us of cancellation will result to forfeiture of full amount paid.
Cancellation by BusinessCoach, Inc.
Registrant may refund full amount paid within 30 days, or may opt to use the payment for a seminar of equal value within sixty days of cancellation.
Refund Policy
Payment may be refunded upon presentation of the original copy of bank deposit slip and a valid ID. Cash refund is strictly implemented, and may be availed only at the BusinessCoach, Inc. office in San Juan City, Metro Manila. BusinessCoach, Inc. does not deposit refunds.
Note
Schedule may change without prior notice. Please call to confirm. BusinessCoach, Inc. is not liable for any expense incurred by seminar registrant resulting from cancellation of any of our events.
Contact Details
Contact Numbers
Please call (632) 727.56.28, (632) 225.66.16, or (632) 727.88.60
or call/text mobile numbers 0915.205.0133 / 0908.342.3162 / 0926.622.0768 / 0933.584.7266
Inquiries
For other inquiries, you may also leave a message in our contact form »