Managing BIR Tax Assessments
About the Seminar
Overview
Apparently, the BIR is very aggressive in achieving its collection goals ( P1.066 Trillion and P 1.2 Trillion for 2012 and 2013, respectively) and thus, several measures were resorted to achieve that respective goals. Consequently, taxpayers such as single proprietors or corporations are in constant threat for possible tax exposure. Possible tax exposure entails a huge amount of money and unfortunately, some of existing companies were forced to cease operations or dissolve their corporations because they can no longer settle their outstanding tax liabilities with the BIR.

Accordingly, in order to minimize the risk of tax exposure, it is highly important that the taxpayers should know how the BIR officials assess taxes and their state of mind and common findings. It is also equally important that the taxpayers should know their rights, proper remedies and defenses under the circumstances.
Objectives
• To know the basic principles of tax Laws
• To learn the basic types of audit notices
• To learn the basic assessment process
• To be able to address properly the BIR officials
• To know the usual findings of the BIR
• To be able to invoke the rights and remedies available to a taxpayer.
Who Should Participate
• Business owners (single proprietor or stockholders)
• Business managers and other employees
• Accountants (whether employee or practitioner)
• Others who want to know how to handle BIR's tax assessment
Key Topics
I. Basic principles of taxation

a. Interpretation of Tax Laws
b. Sources of Tax Laws
c. Power of Commissioner of Internal Revenue

II. Types of Audit Notices

a. Letter of Authority (LA, eLA)
b. Memorandum of Assignment
c. Letter Notice
d. Mission Order (Tax Mapping, Tax Surveillance, Oplan Kandado)

III. Approaching BIR Assessment

a. Basic Assessment Process
b. Subpoena Duces Tecum
c. Preliminary Assessment Notice (PAN)
d. Final Assessment Notice (FAN)
e. Protesting the FAN
f. Court of Tax Appeals
g. Usual findings of BIR officials
h. Invoking the defense of Prescription
i. Waiver of the Statute of Limitations

IV. Managing Delinquent (Collectible) Account

a. Delinquent Account
b. Modes of Collecting Taxes
c. Prescription of time to collect
d. Administrative Remedies
e. Distraint, levy and garnishment
f. Levy of Real Property
g. Compromise of Tax Liability
h. Cases that can be compromised
i. Grounds for compromise
j. Doubtful Validity of Assessment
k. Financial Incapacity of Taxpayer
l. Minimum Compromise Amount
Time
9:00 am – 4:00 pm
Venue
Unit 201 Richbelt Tower, 17 Annapolis St., Greenhills, San Juan City, Metro Manila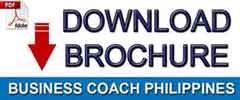 Registration Details
Seminar Fee
Php 3,000.00 per person (inclusive of snacks, lunch, seminar kit, handouts, certificate of attendance)
Discount
10% Discount if FULL AMOUNT is paid at least five (5) banking days before the event.
Reservation
Please call to register, or you may download our registration form. Kindly fill-out, and send to us through fax (727.88.60) or email. You will receive a confirmation within 48 hours.
Mode of Payment
Deposit payment at Banco de Oro, Savings Account Name: BusinessCoach, Inc. Then kindly fax deposit slip (indicate name of participant and seminar title) to confirm reservation.
On-site payment (CASH only)
Company checks are accepted, provided that they are received at least five (5) banking days before the event.
Cancellation by Attendee
Registrant may refund amount paid, with less 30% processing charge from the LISTED AMOUNT within 30 days, or opt to use the payment for a seminar of equal value within 60 days. Cancellation must be done at least 2 days before the event. Non-appearance or failure to inform us of cancellation will result to forfeiture of full amount paid.
Cancellation by BusinessCoach, Inc.
Registrant may refund full amount paid within 30 days, or may opt to use the payment for a seminar of equal value within sixty days of cancellation.
Refund Policy
Payment may be refunded upon presentation of the original copy of bank deposit slip and a valid ID. Cash refund is strictly implemented, and may be availed only at the BusinessCoach, Inc. office in San Juan City, Metro Manila. BusinessCoach, Inc. does not deposit refunds.
Note
Schedule may change without prior notice. Please call to confirm. BusinessCoach, Inc. is not liable for any expense incurred by seminar registrant resulting from cancellation of any of our events.
Contact Details
Contact Numbers
Please call (632) 727.56.28, (632) 225.66.16, or (632) 727.88.60
or call/text mobile numbers 0915.205.0133 / 0908.342.3162 / 0926.622.0768 / 0933.584.7266
Inquiries
For other inquiries, you may also leave a message in our contact form.