Personality Development
About the Seminar
Overview
Success in both your professional and personal life is greatly impacted by how people perceive you. Having a pleasing personality does not only refer to physical features but more on the way you present yourself. This seminar-workshop on personality development will go a long way to train the participant on how to enhance her/his personality.
Objectives
General: This program aims to help an individual maximize available resources to reach a persons full potential through a well-rounded personality.
Specific objectives: At the end of this program, the participants will learn how to:
Value the concept of self-mastery
Be self-confident about their physical appearance
Package themselves through proper dressing and grooming
Who Should Participate
Customer Service Representatives
Sales Persons
HR managers and personnel
Managers
Professionals
Business Owners
Anyone who wants to develop a winning personality
Key Topics
I. Basic Concepts
Personality and Individuality
Getting to Know Oneself
Johari Window

II. Personality Determinants
Heredity
Environment

III. Aspects of Personality
Physical – Making a great first impression
Intellectual
Emotional
Social
Moral

IV. Areas that Project Personality
Physical Appearance
Professional Dressing for Maximum Impact
Matching Your Wardrobe Style with Your Personality – Fashion Tips
Skincare and Grooming
More Tips for a Winning Personality
Speech and Interpersonal Communication
Poise and Posture
Social Graces and Etiquette
International Etiquette

Demo and Workshop

Note: Kindly bring the following on the day of the seminar:
*Males – neckties
*Females – scarves and make-up kit
Time
9:00 am – 4:00 pm
Venue
Unit 201 Richbelt Tower, 17 Annapolis St., Greenhills, San Juan City, Metro Manila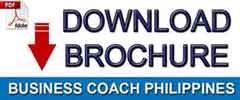 Registration Details
Seminar Fee
Php 3,000.00 per person (inclusive of snacks, lunch, seminar kit, handouts, certificate of attendance)
Discount
10% Discount if FULL AMOUNT is paid at least five (5) banking days before the event.
Reservation
Please call to register, or you may download our registration form. Kindly fill-out, and send to us through fax (727.88.60) or email. You will receive a confirmation within 48 hours.
Mode of Payment
Deposit payment at Banco de Oro, Savings Account Name: BusinessCoach, Inc. Then kindly fax deposit slip (indicate name of participant and seminar title) to confirm reservation.
On-site payment (CASH only)
Company checks are accepted, provided that they are received at least five (5) banking days before the event.
Cancellation by Attendee
Registrant may refund amount paid, with less 30% processing charge from the LISTED AMOUNT within 30 days, or opt to use the payment for a seminar of equal value within 60 days. Cancellation must be done at least 2 days before the event. Non-appearance or failure to inform us of cancellation will result to forfeiture of full amount paid.
Cancellation by BusinessCoach, Inc.
Registrant may refund full amount paid within 30 days, or may opt to use the payment for a seminar of equal value within sixty days of cancellation.
Refund Policy
Payment may be refunded upon presentation of the original copy of bank deposit slip and a valid ID. Cash refund is strictly implemented, and may be availed only at the BusinessCoach, Inc. office in San Juan City, Metro Manila. BusinessCoach, Inc. does not deposit refunds.
Note
Schedule may change without prior notice. Please call to confirm. BusinessCoach, Inc. is not liable for any expense incurred by seminar registrant resulting from cancellation of any of our events.
Contact Details
Contact Numbers
Please call (632) 727.56.28, (632) 225.66.16, or (632) 727.88.60
or call/text mobile numbers 0915.205.0133 / 0908.342.3162 / 0926.622.0768 / 0933.584.7266
Inquiries
For other inquiries, you may also leave a message in our contact form »
Testimonials
"Speaker commendable; knowledgeable." – J. Navarro
"Perfect." – M. Delis
"Overall rating – Excellent" – R. Tan
"I really do appreciate how great the speaker is." – A. Modesto