Project Management for IT Professionals (Software Project Management)
About the Seminar
Overview
Software Project Management is the scientific style of planning, managing, implementing and monitoring a project, targeting software implementations. It is a sub-discipline of project management, which started in around 1970s when computers had started.

There are a multitude of ways to implement software projects, and unlike a software's counterpart (any kind of project implementation), a software is intangible. Software development is a kind of all new stream in world business and there's very little experience in building software products. Most software products are tailor made to fit the client's requirements. The most important is that the underlying technology changes and advances so frequently and rapidly that experience of one product may not be applied to the other one. All such business and environmental constraints bring risk in software development hence it is essential to manage software projects efficiently.
Objectives
At the end of the program, the participants should be able to:

• Know the difference between software project management against other project implementations
• Be familiarized with the key terms in software project management
• Learn the different phases of a software project management and create a sample timeline
• Monitor a project's progress, analyze and mitigate risks
• Understand and learn the different project documentations of a software project, including but not limited to:
– Business Requirements Document
– Change Requests
– End and Key-User Training
– Go-Live Checklists
• Acquire knowledge on how to conduct user trainings for different user types
• Determine key factors in ensuring a successful project implementation
Who Should Participate
• IT professionals
• Project managers
• Anyone who is tasked to do a software project
Key Topics
Module 1: Software Project Management: Differences and Familiarities
Module 2: The role of a software project manager
Module 3: Software project management phases for an effective and successful Go-Live
Module 4: Monitoring your project: What to do and what to expect
Module 5: Project documentations
Module 6: Training your users: What kind of training should they have?
Module 7: Key factors in ensuring a successful software implementation
Time
9:00 am – 4:00 pm
Venue
Unit 201 Richbelt Tower, 17 Annapolis St., Greenhills, San Juan City, Metro Manila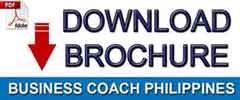 Registration Details
Seminar Fee
Php 3,000.00 per person (inclusive of snacks, lunch, seminar kit, handouts, certificate of attendance)
Discount
10% Discount if FULL AMOUNT is paid at least five (5) banking days before the event.
Reservation
Please call to register, or you may download our registration form. Kindly fill-out, and send to us through fax (727.88.60) or email. You will receive a confirmation within 48 hours.
Mode of Payment
Deposit payment at Banco de Oro, Savings Account Name: BusinessCoach, Inc. Then kindly fax deposit slip (indicate name of participant and seminar title) to confirm reservation.
On-site payment (CASH only)
Company checks are accepted, provided that they are received at least five (5) banking days before the event.
Cancellation by Attendee
Registrant may refund amount paid, with less 30% processing charge from the LISTED AMOUNT within 30 days, or opt to use the payment for a seminar of equal value within 60 days. Cancellation must be done at least 2 days before the event. Non-appearance or failure to inform us of cancellation will result to forfeiture of full amount paid.
Cancellation by BusinessCoach, Inc.
Registrant may refund full amount paid within 30 days, or may opt to use the payment for a seminar of equal value within sixty days of cancellation.
Refund Policy
Payment may be refunded upon presentation of the original copy of bank deposit slip and a valid ID. Cash refund is strictly implemented, and may be availed only at the BusinessCoach, Inc. office in San Juan City, Metro Manila. BusinessCoach, Inc. does not deposit refunds.
Note
Schedule may change without prior notice. Please call to confirm. BusinessCoach, Inc. is not liable for any expense incurred by seminar registrant resulting from cancellation of any of our events.
Contact Details
Contact Numbers
Please call (632) 727.56.28, (632) 225.66.16, or (632) 727.88.60
or call/text mobile numbers 0915.205.0133 / 0908.342.3162 / 0926.622.0768 / 0933.584.7266
Inquiries
For other inquiries, you may also leave a message in our contact form »