Purchasing Management
About the Seminar
Overview
A firm which utilizes materials and supplies must effectively manage the purchasing function. Purchasing management considers a lot of factors, such as inventory, inventory costs, availability of supply and quality of suppliers. In order to have outstanding purchasing operations, excellent vendor relations, systematic demand, forecasting, and ordering system must be present.
Objectives
To enable the participants to better understand the different methods and strategies in purchasing and adopt strict purchasing policies.
To enable the participants to appreciate the importance of good vendor relations in purchasing and adopt a quality supplier program for a more efficient purchasing system.
To enable the participants to learn and adopt in their respective organizations the different methods of demand forecasting and ordering.
Who Should Participate
Purchasing managers and personnel
Business owners
Logistics managers and personnel
Key Topics
Module 1 – Nature of Purchasing Management
Creating the Organization's Purchasing Policies
Implementing the Ordering System
Factors to Consider in Purchasing-Vendor Relations
Quality Supplier Program
a. Proper Selection of Suppliers
b. Evaluating Supplier Performance

Module 2 – Purchasing Methods and Strategies
Purchasing Methods / Techniques
Purchasing Strategies

Module 3 – Demand Forecasting and Reorder Point
Demand Forecast and Lead Time Information
Forecasting Approaches
a. Qualitative Approaches
b. Quantitative Approaches
Reorder Point (ROP)
How Much to Order – Minimum and Maximum

Module 4 – Managing Inventory with Dependent Demand, by knowing the:
Master Production Schedule
Specifications of the Bill of Materials
Outstanding Purchase Order
Time
9:00 am – 4:00 pm
Venue
Unit 201 Richbelt Tower, 17 Annapolis St., Greenhills, San Juan City, Metro Manila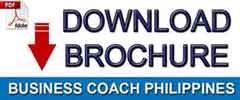 Registration Details
Seminar Fee
Php 3,000.00 per person (inclusive of snacks, lunch, seminar kit, handouts, certificate of attendance)
Discount
10% Discount if FULL AMOUNT is paid at least five (5) banking days before the event.
Reservation
Please call to register, or you may download our registration form. Kindly fill-out, and send to us through fax (727.88.60) or email. You will receive a confirmation within 48 hours.
Mode of Payment
Deposit payment at Banco de Oro, Savings Account Name: BusinessCoach, Inc. Then kindly fax deposit slip (indicate name of participant and seminar title) to confirm reservation.
On-site payment (CASH only)
Company checks are accepted, provided that they are received at least five (5) banking days before the event.
Cancellation by Attendee
Registrant may refund amount paid, with less 30% processing charge from the LISTED AMOUNT within 30 days, or opt to use the payment for a seminar of equal value within 60 days. Cancellation must be done at least 2 days before the event. Non-appearance or failure to inform us of cancellation will result to forfeiture of full amount paid.
Cancellation by BusinessCoach, Inc.
Registrant may refund full amount paid within 30 days, or may opt to use the payment for a seminar of equal value within sixty days of cancellation.
Refund Policy
Payment may be refunded upon presentation of the original copy of bank deposit slip and a valid ID. Cash refund is strictly implemented, and may be availed only at the BusinessCoach, Inc. office in San Juan City, Metro Manila. BusinessCoach, Inc. does not deposit refunds.
Note
Schedule may change without prior notice. Please call to confirm. BusinessCoach, Inc. is not liable for any expense incurred by seminar registrant resulting from cancellation of any of our events.
Contact Details
Contact Numbers
Please call (632) 727.56.28, (632) 225.66.16, or (632) 727.88.60
or call/text mobile numbers 0915.205.0133 / 0908.342.3162 / 0926.622.0768 / 0933.584.7266
Inquiries
For other inquiries, you may also leave a message in our contact form »
Testimonials
"The speaker is very accommodating, and approachable." – M. Melo
"It's a great opportunity to attend this seminar. I will apply all these strategies as a purchaser. Good luck!" – J. Bibano
"This will really help me a lot in my job. Now I understand forecasting." – M. Agsalud
"Excellent. Stay on the right track. Thanks and God bless you all!" – J. Elli
"Good mind exercise. Relevant computations. Challenging. Overall, very exciting." – A. Martinez