Six Sigma For Quality Improvement
About the Seminar
Overview
Six Sigma is a Quality Management and Improvement methodology structured to reduce product or service failure rates to a negligible level (roughly 3.4 failures per million opportunities). To achieve six sigma levels, the Six Sigma process encompasses all aspects of a business, including management, service delivery, design, production and customer satisfaction. Six Sigma companies typically spend less than 5 percent of their revenues addressing and repairing quality problems. As a philosophy, Six Sigma drives business culture and requires a nearly flawless execution of key processes making Six Sigma a high standard for companies and individuals to achieve.

Your customers place a high value on consistently predictable business processes and Six Sigma is a proven methodology for delivering consistent incremental improvement. By reducing process variation Six Sigma frees the organization to focus on improving process capability and as sigma levels increase, the cost of poor quality decreases and profitability increases. This is why Six Sigma is highly associated with the delivery of consistent world-class quality.

There are many misconceptions in organizations today about Six Sigma and Green and Black Belts. A 1-day overview is an excellent way of obtaining a basic understanding of Six Sigma, Green and Black Belt and how to establish and implement a Six Sigma Culture within an Organization.

This seminar is ideal for a Senior Management Team that is interested in learning what will be involved in establishing a Six Sigma Culture. Following this program, the Management Team will be able to make an informed decision about adopting Six Sigma.
Objectives
This seminar can serve as an excellent awareness session for all employees in an organization. During this 1-day session a complete understanding of Six Sigma, what it means, how to implement it, what some of the results might be will be discussed.
Who Should Participate
Project managers, team members, project engineers, design engineers, project leaders, industrial engineers, program managers, operations managers, functional managers, information technology professionals, and all individuals need to prepare to be part of the overall Organizational Six Sigma Projects in order to achieve high quality results via processes improvements.

Anyone who is involved in deciding business strategies and activities, managing projects, or is otherwise responsible for delivering results within an organization, (e.g. CEO, CFO, manager, supervisors, etc).
Key Topics
I. Define – participants will be taught tools to identify and/or validate their improvement project, illustrate their business processes, define customer requirements and prepare themselves to be an effective project participant.

• SIPOC (Suppliers, Inputs, Process, Output, and Customers)
• Process Mapping Techniques
• Voice of the Customer

II. Measure – participants will learn and practice employing tools to determine critical measures necessary to satisfy customer requirements and develop a measurement plan to document process performance. Participants will learn the basics of variation and measure process sigma.

• Input, Process, and Output Measurement
• Measurement Plan
• Calculating Six Sigma

III. Analyze – participants will learn how to analyze the performance data to further refine the opportunity for improvement. Participants will use stratification and root cause analysis, and determine true sources of variation and customer dissatisfaction.

• Determining Potential Root Causes
• Brainstorming Techniques
• Problem Solving Techniques

IV. Improve – participants will learn how to generate creative solutions that eliminate the root cause of customer defects. Participants will be introduced to various methods of solution identification, prioritization, and implementation and learn how to gain approval for the solution and plan for impacts the changes will have on the organization.

• Change Management
• Solution Selection Techniques
• Criteria Selection and Solution Ranking

V. Control – participants will learn how to execute against the plan by determining the approach to ensure achievement of the targeted results. Participants will discuss how to disseminate lessons learned, identify replication and standardization opportunities, and develop a process monitoring and management plan to assure new process performance is sustained.

• Implementing the Solutions
• Plan-Do-Check-Act
• Elements of the Plan
Time
9:00 am – 4:00 pm
Venue
Unit 201 Richbelt Tower, 17 Annapolis St., Greenhills, San Juan City, Metro Manila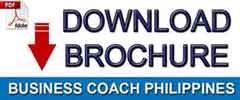 Registration Details
Seminar Fee
Php 3,000.00 per person (inclusive of snacks, lunch, seminar kit, handouts, certificate of attendance)
Discount
10% Discount if FULL AMOUNT is paid at least five (5) banking days before the event.
Reservation
Please call to register, or you may download our registration form. Kindly fill-out, and send to us through fax (727.88.60) or email. You will receive a confirmation within 48 hours.
Mode of Payment
Deposit payment at Banco de Oro, Savings Account Name: BusinessCoach, Inc. Then kindly fax deposit slip (indicate name of participant and seminar title) to confirm reservation.
On-site payment (CASH only)
Company checks are accepted, provided that they are received at least five (5) banking days before the event.
Cancellation by Attendee
Registrant may refund amount paid, with less 30% processing charge from the LISTED AMOUNT within 30 days, or opt to use the payment for a seminar of equal value within 60 days. Cancellation must be done at least 2 days before the event. Non-appearance or failure to inform us of cancellation will result to forfeiture of full amount paid.
Cancellation by BusinessCoach, Inc.
Registrant may refund full amount paid within 30 days, or may opt to use the payment for a seminar of equal value within sixty days of cancellation.
Refund Policy
Payment may be refunded upon presentation of the original copy of bank deposit slip and a valid ID. Cash refund is strictly implemented, and may be availed only at the BusinessCoach, Inc. office in San Juan City, Metro Manila. BusinessCoach, Inc. does not deposit refunds.
Note
Schedule may change without prior notice. Please call to confirm. BusinessCoach, Inc. is not liable for any expense incurred by seminar registrant resulting from cancellation of any of our events.
Contact Details
Contact Numbers
Please call (632) 727.56.28, (632) 225.66.16, or (632) 727.88.60
or call/text mobile numbers 0915.205.0133 / 0908.342.3162 / 0926.622.0768 / 0933.584.7266
Inquiries
For other inquiries, you may also leave a message in our contact form »