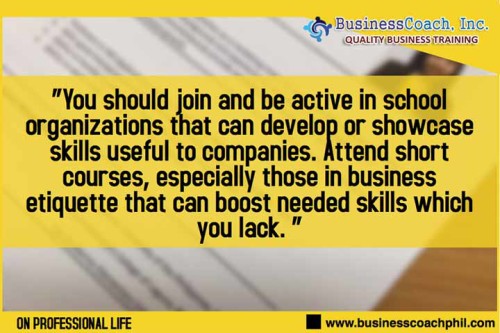 Skills Employers Look For In New Graduates
New graduates often wonder what skills employers are looking for, considering that they have no work experience besides their OJT stints. For the vast majority of cases, the necessary skills need not be outstanding talent. After all, very few graduates can boast of stellar academic accomplishments. In fact, for ordinary entry-level positions, too much talent or academic credentials may even lead to a rejection for being overqualified. This is sometimes the case with those who already have MBAs.

The skills that are usually sought after are those that are not easily or quickly taught. If the skill takes only a few days to learn, then it is not of much value since it can be learned on the job. Also, some of these skills are, at least, inborn talents that are not easy to improve. Nevertheless, for most people, it is indeed possible to exert some degree of control on these qualities:

Fast typing speed. In this age of the touch screen, it may surprise some college graduates to learn that most work is still done via the keyboard. Touch typists have a great advantage over those who rely on only their index fingers. Unfortunately, learning how to type fast is not learned overnight. You have to practice the right way of typing at least a few months to significantly improve your typing skill.

Business etiquette. This means the proper professional behavior, which includes the right way of dressing, hygiene, the way and manner that you speak, and many other aspects that show good breeding and respect. In short, it is about having the proper manners. Business etiquette is often forgotten as trivial, but few employers will even consider those who lack this skill.

Adequate technical skills. For professions where specific technical skills are needed, it is likely that there will be questions, validations or tests that will try to ascertain your proficiency in these matters. Some of the jobs where this is vital are in the medical field, engineering and accounting. If your profession requires a PRC license, most companies would try to get verification.

Pleasing personality. This requirement is standard in most positions that have plenty of interaction with customers. It is a common misconception that this refers to physical beauty, but in the majority of cases, this is not what it means. It is a combination of qualities like having a smiling face, and being friendly, patient and accommodating with customers.

The ability to speak and write well. This is an advantage in almost all types of positions. Even if you are in a traditionally solitary work like programming, this can serve as the tie-breaker if the applicants' credentials are almost of the same level. There are plenty of cases where communication skills trump technical ability, especially if the interviewer is not an expert in your field. You will be limiting your prospects for promotion if you are verbally challenged.

Ability to work under pressure. New graduates may think that only a few jobs are stressful, but the opposite is more accurate. The pressure comes from three fronts: the job itself, your boss, and your co-workers. The truth is that almost all jobs have some level of stress. Still, there are positions that are particularly stressful. Usually the most stressful jobs are those where there are plenty of potential and so avoiding such positions will be very costly for your future prospects.

Being active in extracurricular activities that show skills relevant to the job. For sales jobs or positions that are potential candidates for promotion, extracurricular activities are especially important. These are indicators of leadership ability and high energy. Being a member is not enough since anyone could be a member of almost any organization by simply registering. You should strive to be an officer so that it would have an impact on your assessment.

The longer your preparation time, the better your chances of developing the essential skills. You should join and be active in school organizations that can develop or showcase skills useful to companies. Attend short courses, especially those in business etiquette that can boost needed skills which you lack. You can even do this to further skills you already have. This is particularly critical in professions where specific technical skills are needed to perform your function. Having a certification will also be a strong testimonial to your capabilities.

It has often been said that you should not judge a book by its cover. This is indeed a wise saying, but if the applicant does not yet have experience, employers have less information to base on and so are forced to look for necessary skills that are already evident. New graduates are advised to work on improving the skills that are likely to be examined.

*Originally published by the Manila Bulletin. C-4, Sunday, April 28, 2013. Written by Ruben Anlacan, Jr. (President, BusinessCoach, Inc.) All rights reserved. May not be reproduced or copied without express written permission of the copyright holders.