Starting a Food Cart Business
About the Seminar
Overview
Before you buy a food cart franchise find out first if it is better if you do it yourself. This food cart business seminar will give you professional guidance on what it takes to put up and operate this business. Start a food cart business yourself instead of buying a foodcart franchise and so save money and expand fast by franchising your foodcart yourself!
Objective
To teach the participant the proper procedures in setting up a food cart business – from choosing the product line, to business expansion.
Who Should Participate
Those who wish to go into the food cart business
Key Topics
I. Introduction
a. The profit potential of foodcarts
b. Quality is the key to success

II. Starting your food cart business the right way
a. Registration requirements and permits needed to operate (DTI, SEC, City Hall, BIR, etc.)

III. The different types of food carts

IV. How to develop a winning food cart concept and menu plan
a. Product development
b. Cart design
c. Menu plan

V. Food cart capital requirements

VI. Possible sources of funding
a. Bank loans
b. Financing companies
c. Government loans
d. Others

VII. Knowing your food costs and pricing profitably

VIII. Finding and negotiating the best location for your food cart
a. How to find the best location for your target market
b. Knowing if the lease price is affordable
c. Important things to check in assessing a location

IX. Suppliers
a. Commissaries
b. Cart fabricators
c. Packaging
d. Others

X. Efficient food cart operation
a. Hiring and training personnel
b. Policies you should implement
c. The importance of an operations manual
d. Excellent customer service

XI. Food safety management
a. How to avoid food contamination
b. How to avoid food spoilage
c. HACCP and others

XII. Marketing your food cart
a. Promotional strategies to entice customers
b. Local advertising
c. Other ways to increase sales

XIII. Top tips to prevent losses and enhance your chances for success
Time
9:00 am – 4:00 pm
Venue
Unit 201 Richbelt Tower, 17 Annapolis St., Greenhills, San Juan City, Metro Manila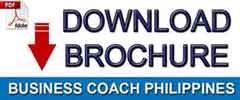 Registration Details
Seminar Fee
Php 3,000.00 per person (inclusive of snacks, lunch, seminar kit, handouts, certificate of attendance)
Discount
10% Discount if FULL AMOUNT is paid at least five (5) banking days before the event.
Reservation
Please call to register, or you may download our registration form. Kindly fill-out, and send to us through fax (727.88.60) or email. You will receive a confirmation within 48 hours.
Mode of Payment
Deposit payment at Banco de Oro, Savings Account Name: BusinessCoach, Inc. Then kindly fax deposit slip (indicate name of participant and seminar title) to confirm reservation.
On-site payment (CASH only)
Company checks are accepted, provided that they are received at least five (5) banking days before the event.
Cancellation by Attendee
Registrant may refund amount paid, with less 30% processing charge from the LISTED AMOUNT within 30 days, or opt to use the payment for a seminar of equal value within 60 days. Cancellation must be done at least 2 days before the event. Non-appearance or failure to inform us of cancellation will result to forfeiture of full amount paid.
Cancellation by BusinessCoach, Inc.
Registrant may refund full amount paid within 30 days, or may opt to use the payment for a seminar of equal value within sixty days of cancellation.
Refund Policy
Payment may be refunded upon presentation of the original copy of bank deposit slip and a valid ID. Cash refund is strictly implemented, and may be availed only at the BusinessCoach, Inc. office in San Juan City, Metro Manila. BusinessCoach, Inc. does not deposit refunds.
Note
Schedule may change without prior notice. Please call to confirm. BusinessCoach, Inc. is not liable for any expense incurred by seminar registrant resulting from cancellation of any of our events.
Contact Details
Contact Numbers
Please call (632) 727.56.28, (632) 225.66.16, or (632) 727.88.60
or call/text mobile numbers 0915.205.0133 / 0908.342.3162 / 0926.622.0768 / 0933.584.7266
Inquiries
For other inquiries, you may also leave a message in our
contact form
.
Testimonials
"I learned a lot in the seminar. Thanks for providing us a venue to learn more about the food cart business!" – M. Yao
"The seminar is very helpful and informative in discussing the advantages and challenges in starting up a food cart business." – M. Paz
"Overall a good experience" – J. Gonzales
"The seminar was very informative." – R. Jovellanos
"Nothing to improve. Everything was great!" – S. Wang
"Excellent trainer, very responsive, friendly and approachable. Highly recommended." – R. Acosta
"I've learned a lot. The speaker was backed up by tons of experiences. The topics were not just informative, but provided with more than enough actual situations happening in the Philippine setting." – J. Yayen
Must Read! Related Articles: