Starting a Hardware and Construction Supplies Business
About the Seminar
Overview
The seminar discusses the background of the industry of the hardware retail stores, its potential markets, construction products and hardware supplies, investments needed and financials among many other useful information. This will help prepare the entrepreneur in putting up a hardware business.
Objectives
• To help the participant decide what kind of hardware/construction supplies business to put up.
• To give guidance on business registration requirements.
• To know about capital requirements and important financial aspects of the business.
• To give valuable tips to improve your chances for success in the business.
Who Should Participate
• Those who plan to put up their own hardware and construction supplies business.
Key Topics
I. Introduction

1. Construction industry
2. Statistics

a. Population
b. Hardware business
c. Real estate

• Residential houses and condominium
• Commercial establishment

II. Competition (Types of hardware business)

1. Traditional hardware stores
2. Modern retail hardware stores

a. Mall-based hardware stores
b. Depot hardware stores

III. Success stories

IV. Target market

1. According to location profile

a. Residential houses
b. Condominium
c. Commercial establishments
d. Schools and universities
e. Churches

2. According to type of buyer

a. Homeowners
b. Skilled workers (mason, plumbers, electrician, etc.)
c. Construction professionals (contractors, engineers and architects)

V. Location for your business

VI. Business registration

VII. Products

1. Branded or not
2. According to category

a. External works
b. Internal works
c. Final works

3. Seasonality
4. Selling price and margins
5. Suppliers

VIII. Business operations

1. Store operating hours
2. Manpower
3. Mode of payment

IX. Financials

1. Investments
2. Sales projection
3. Operating costs

X. Do's and Don'ts
Time
9:00 am – 4:00 pm
Venue
Unit 201 Richbelt Tower, 17 Annapolis St., Greenhills, San Juan City, Metro Manila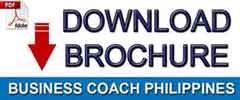 Registration Details
Seminar Fee
Php 3,000.00 per person (inclusive of snacks, lunch, seminar kit, handouts, certificate of attendance)
Discount
10% Discount if FULL AMOUNT is paid at least five (5) banking days before the event.
Reservation
Please call to register, or you may download our registration form. Kindly fill-out, and send to us through fax (727.88.60) or email. You will receive a confirmation within 48 hours.
Mode of Payment
Deposit payment at Banco de Oro, Savings Account Name: BusinessCoach, Inc. Then kindly fax deposit slip (indicate name of participant and seminar title) to confirm reservation.
On-site payment (CASH only)
Company checks are accepted, provided that they are received at least five (5) banking days before the event.
Cancellation by Attendee
Registrant may refund amount paid, with less 30% processing charge from the LISTED AMOUNT within 30 days, or opt to use the payment for a seminar of equal value within 60 days. Cancellation must be done at least 2 days before the event. Non-appearance or failure to inform us of cancellation will result to forfeiture of full amount paid.
Cancellation by BusinessCoach, Inc.
Registrant may refund full amount paid within 30 days, or may opt to use the payment for a seminar of equal value within sixty days of cancellation.
Refund Policy
Payment may be refunded upon presentation of the original copy of bank deposit slip and a valid ID. Cash refund is strictly implemented, and may be availed only at the BusinessCoach, Inc. office in San Juan City, Metro Manila. BusinessCoach, Inc. does not deposit refunds.
Note
Schedule may change without prior notice. Please call to confirm. BusinessCoach, Inc. is not liable for any expense incurred by seminar registrant resulting from cancellation of any of our events.
Contact Details
Contact Numbers
Please call (632) 727.56.28, (632) 225.66.16, or (632) 727.88.60
or call/text mobile numbers 0915.205.0133 / 0908.342.3162 / 0926.622.0768 / 0933.584.7266
Inquiries
For other inquiries, you may also leave a message in our contact form »