Starting a Laundry Shop Business
About the Seminar
Overview
The laundry business serves a growing need of people to outsource their cleaning tasks because of a lack of time to do it themselves.
Objective
To give the participants an excellent guide on how to start and operate a successful laundry business.
Who Should Participate
Anyone interested in the laundry business
Key Topics
I. Introduction
II. Four Factors in the Cleaning Process
III. Care Labels Guide
IV. Types of Laundry
V. Laundry Shop Layout
VI. Overview of the Laundry Process
VII. Financial Aspect
Capitalization (Machines, Location, Staff Requirements, Supplies, etc.)
Feasibility Study
Break Even
Return of Investment
VIII. Detailed Discussion of the Laundry Work Flow
Receiving
Sorting
Tagging
Spotting
Soaking
Washing
Drying/Segregating
Folding and Packing
Claiming
IX. Dry Cleaning and Wet Cleaning
X. Laundry Chemicals/ Other Supplies
*With actual demonstration – wet and dry cleaning of barong and coat
*With practical tips – folding and packing of personal and household items
Time
9:00 am – 4:00 pm
Venue
Unit 201 Richbelt Tower, 17 Annapolis St., Greenhills, San Juan City, Metro Manila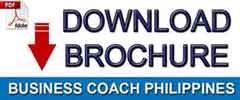 Registration Details
Seminar Fee
Php 3,000.00 per person (inclusive of snacks, lunch, seminar kit, handouts, certificate of attendance)
Discount
10% Discount if FULL AMOUNT is paid at least five (5) banking days before the event.
Reservation
Please call to register, or you may download our registration form. Kindly fill-out, and send to us through fax (727.88.60) or email. You will receive a confirmation within 48 hours.
Mode of Payment
Deposit payment at Banco de Oro, Savings Account Name: BusinessCoach, Inc. Then kindly fax deposit slip (indicate name of participant and seminar title) to confirm reservation.
On-site payment (CASH only)
Company checks are accepted, provided that they are received at least five (5) banking days before the event.
Cancellation by Attendee
Registrant may refund amount paid, with less 30% processing charge from the LISTED AMOUNT within 30 days, or opt to use the payment for a seminar of equal value within 60 days. Cancellation must be done at least 2 days before the event. Non-appearance or failure to inform us of cancellation will result to forfeiture of full amount paid.
Cancellation by BusinessCoach, Inc.
Registrant may refund full amount paid within 30 days, or may opt to use the payment for a seminar of equal value within sixty days of cancellation.
Refund Policy
Payment may be refunded upon presentation of the original copy of bank deposit slip and a valid ID. Cash refund is strictly implemented, and may be availed only at the BusinessCoach, Inc. office in San Juan City, Metro Manila. BusinessCoach, Inc. does not deposit refunds.
Note
Schedule may change without prior notice. Please call to confirm. BusinessCoach, Inc. is not liable for any expense incurred by seminar registrant resulting from cancellation of any of our events.
Contact Details
Contact Numbers
Please call (632) 727.56.28, (632) 225.66.16, or (632) 727.88.60
or call/text mobile numbers 0915.205.0133 / 0908.342.3162 / 0926.622.0768 / 0933.584.7266
Inquiries
For other inquiries, you may also leave a message in our
contact form
.
Testimonials
"Straightforward on topic and real examples, plus experience of trainer makes discussion balance and interesting." – J. Calderon
"The speaker was very kind in sharing some of the trade secrets." – R. Paguirigan
"I now have a better picture of my plan to open up a laundry shop business. Kudos to the resource speaker. Your business know-how was super helpful. More power." – C. Abucay
"I appreciate Business Coach in selecting their resource speakers because they are currently engaged in their fields, and you can see their passion in their work/business." – J. Ablaza
"The resource speaker was well versed in her field, that is laundry shop business. She shared everything she can, based on her experience." – D. Cabuyao
"Very informative, well organized topics. My hearfelt thanks to the speaker for sharing her wealth of business expertise in laundry shop business." – M. Bahia
"The speaker was very informative and we covered the topics very well." – S. Wisehunt
Must Read! Related Articles:
Quick and Easy Steps to Starting a Laundry Business »
The Laundry Business Made Easy »