Starting a Silk Screen Printing Business
About the Seminar
Overview
Part time or full time, silk screen printing gives the ambitious entrepreneur a great opportunity. Its capital requirements can fit anyone from those with very little capital to those with millions to invest in big machines. There is a very big market since silk screen printing is very versatile, you can print on almost anything besides t-shirts.
Objective
Primary focus will be to enable the participant to properly set-up and operate a silkscreen printing business
Who Should Participate
entrepreneurs looking for a new business venture
anybody who want so start a silk screen printing business
Key Topics
I. Seminar expectations

II. Personalizing products

III. 3 Significant aspects in silk screen printing

IV. Marketing know-how
a. Target market
b. Presentation of services to clients
c. Marketing strategies

V. Sales know-how
a. Costing and mark-ups
b. Mark-up tips
c. Business policies

VI. Technical know-how (screen printing)
* Components, functions and influences of screen printing
* Making a design using Adobe Photoshop
* Developing a photographic stencil
* Fabric mesh stretching
* Production
a. Actual set-up
b. Different screen printing machines
c. Materials needed
* Reclaiming the silkscreen method

VII. Demonstration – silkscreen printing

VIII. Basic things needed for the start-up

IX. Capital investment

X. Manpower

XI. List of suppliers for silk screen printing

XII. Question and answer
Time
9:00 am – 4:00 pm
Venue
Unit 201 Richbelt Tower, 17 Annapolis St., Greenhills, San Juan City, Metro Manila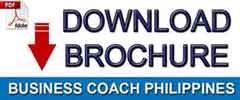 Registration Details
Seminar Fee
Php 3,000.00 per person (inclusive of snacks, lunch, seminar kit, handouts, certificate of attendance)
Discount
10% Discount if FULL AMOUNT is paid at least five (5) banking days before the event.
Reservation
Please call to register, or you may download our registration form. Kindly fill-out, and send to us through fax (727.88.60) or email. You will receive a confirmation within 48 hours.
Mode of Payment
Deposit payment at Banco de Oro, Savings Account Name: BusinessCoach, Inc. Then kindly fax deposit slip (indicate name of participant and seminar title) to confirm reservation.
On-site payment (CASH only)
Company checks are accepted, provided that they are received at least five (5) banking days before the event.
Cancellation by Attendee
Registrant may refund amount paid, with less 30% processing charge from the LISTED AMOUNT within 30 days, or opt to use the payment for a seminar of equal value within 60 days. Cancellation must be done at least 2 days before the event. Non-appearance or failure to inform us of cancellation will result to forfeiture of full amount paid.
Cancellation by BusinessCoach, Inc.
Registrant may refund full amount paid within 30 days, or may opt to use the payment for a seminar of equal value within sixty days of cancellation.
Refund Policy
Payment may be refunded upon presentation of the original copy of bank deposit slip and a valid ID. Cash refund is strictly implemented, and may be availed only at the BusinessCoach, Inc. office in San Juan City, Metro Manila. BusinessCoach, Inc. does not deposit refunds.
Note
Schedule may change without prior notice. Please call to confirm. BusinessCoach, Inc. is not liable for any expense incurred by seminar registrant resulting from cancellation of any of our events.
Contact Details
Contact Numbers
Please call (632) 727.56.28, (632) 225.66.16, or (632) 727.88.60
or call/text mobile numbers 0915.205.0133 / 0908.342.3162 / 0926.622.0768 / 0933.584.7266
Inquiries
For other inquiries, you may also leave a message in our contact form »
Testimonials
"It's true that you'll never walk out the door without learning. All my concerns were answered. Everything is clear, and it is simplified, yet full of information. Excellent." – J. Tagara
"Resource speaker is very knowledgeable of the topic. Experience is very necessary for starters like me. It has helped me assess the business venture and the requirements." – A. Azul
"Presentation was excellent and all relevant topics were clearly discussed in the seminar. All aspects of the seminar and training were interesting. Thanks to the staffs and to the facilitator." – B. Albania, Jr.
"Overall rating of the seminar is excellent. " – C. Del Prado
"Very informative to newbie entreps, and refresher for experienced printers. " – J. Piring
"I have no regrets going to this seminar. I'm no good with business, but I feel inspired enough to give it a shot and learn more anyway." – M. Bacani