Starting a Water Refilling Station Business
About the Seminar
Overview
Water refilling station business is a profitable venture. The business is very simple and easy to operate.
Objective
The seminar aims to teach participants to start, manage and operate a water refilling station business.
Who Should Participate
Those who are planning to put up their own water refilling station.
Key Topics
1. The Water Refilling Station Business
1.1 Origin and when it all started
1.2 Type of water station package (Mineral, Purified & Alkaline Set-up and all 3 in 1)
-What is the importance of "Filtration & Purification Stages?"
-What is CPR?
1.3 Knowing your market
– Will determine what package to choose (market and budget)
1.4 Selection of site
– Ideal area as per DOH IRR

2. Capitalization and Investments (ROI)
2.1 Cost of equipment
– Equipment selection and specification
2.2 Renovation cost
2.3 Permits and licenses
– DTI, Barangay, Sanitary and Business Permit
– FDA's "Water Refilling Station Operators Course"
-Laboratory fees and monthly water analysis
2.4 Initial inventory of consumable and non-consumable items
– Bottles, seals, labels and stickers
2.5 "Profit Margin" – Summary of Projected Profit & Loss Statement

3. Managing your water station
3.1 Selecting your workforce
-Types of Compensation package
3.2 Marketing Plan
– How to get to your market
3.3 "The Gallon Meter"- Monitoring your Daily Sales
– How to properly log your daily sales
3.4 Proper equipment maintenance
– Filter Replacement and over all store maintenance
Time
9:00 am – 4:00 pm
Venue
Unit 201 Richbelt Tower, 17 Annapolis St., Greenhills, San Juan City, Metro Manila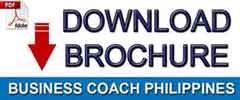 Registration Details
Seminar Fee
Php 3,000.00 per person (inclusive of snacks, lunch, seminar kit, handouts, certificate of attendance)
Discount
10% Discount if FULL AMOUNT is paid at least five (5) banking days before the event.
Reservation
Please call to register, or you may download our registration form. Kindly fill-out, and send to us through fax (727.88.60) or email. You will receive a confirmation within 48 hours.
Mode of Payment
Deposit payment at Banco de Oro, Savings Account Name: BusinessCoach, Inc. Then kindly fax deposit slip (indicate name of participant and seminar title) to confirm reservation.
On-site payment (CASH only)
Company checks are accepted, provided that they are received at least five (5) banking days before the event.
Cancellation by Attendee
Registrant may refund amount paid, with less 30% processing charge from the LISTED AMOUNT within 30 days, or opt to use the payment for a seminar of equal value within 60 days. Cancellation must be done at least 2 days before the event. Non-appearance or failure to inform us of cancellation will result to forfeiture of full amount paid.
Cancellation by BusinessCoach, Inc.
Registrant may refund full amount paid within 30 days, or may opt to use the payment for a seminar of equal value within sixty days of cancellation.
Refund Policy
Payment may be refunded upon presentation of the original copy of bank deposit slip and a valid ID. Cash refund is strictly implemented, and may be availed only at the BusinessCoach, Inc. office in San Juan City, Metro Manila. BusinessCoach, Inc. does not deposit refunds.
Note
Schedule may change without prior notice. Please call to confirm. BusinessCoach, Inc. is not liable for any expense incurred by seminar registrant resulting from cancellation of any of our events.
Contact Details
Contact Numbers
Please call (632) 727.56.28, (632) 225.66.16, or (632) 727.88.60
or call/text mobile numbers 0915.205.0133 / 0908.342.3162 / 0926.622.0768 / 0933.584.7266
Inquiries
For other inquiries, you may also leave a message in our contact form »
Testimonials
"Very informative." – M. Sape
"The resource speaker is very capable and an authority in giving this topic." – R. Gregorio
"I enjoyed this seminar and it has given me clear details on the basic things I need to know about this business." – C. Rosario
"Very educational." – J. Serapio
"I was very impressed with the seminar. Great topic and great speaker!" – R. Petargue Jr.
Congratulations to Our Seminar Participant Who Started a Water Refilling Station Business:

JIOP Water Refilling Station »