Telephone Skills Training
About the Seminar
Overview
Telephone skills are very critical to a company's customer relationship. The customer's first impression of a company is formed mostly by their interaction with the personnel answering the phone. Due to this it is important for all staff who will entertain customer phone calls to have the proper training on how to handle the calls.
Objectives
To know what to say during a customer phone call
To learn how to make the proper voice expression
To acquire listening skills to better understand the customer's needs
To manage angry customers by finding mutually acceptable solutions
Who Should Participate
Customer service representatives
Receptionists
Any personnel who may accept phone calls from outside the company
Key Topics
I. What is telephone skills and its importance?
II. Understanding the customer's perception
III. Techniques that create a positive first and lasting impression
IV. Nonverbal communication concerns: attitude, attention, posture, facial expressions
V. Improving your listening skills
VI. Voice quality: Understanding pitch, volume, speed and clarity
VII. A strong start: Selecting cheerful and appropriate greetings
VIII. Positive and effective verbal communication¨
Using positive vocabulary
Words to use and which ones to avoid
Slang and phrases to avoid
Statements to avoid giving the wrong impression
IX. Building rapport: Appropriate and effective ways to build rapport.
X. Placing callers on-hold techniques
XI. Effectively transferring a call
XII. Handling customer complaint call
Take accurate notes
Empathize with angry or distressed customers
Take ownership of the problem and follow through
Rephrase the customer's statement
Acknowledge the customer's feelings
State the company's position
Allow the customer choices
Find mutually acceptable solutions
XIII. Handling multiple calls
XIV. Closing the call techniques for creating strong last impressions
XV. Using voice mail effectively
Time
9:00 am – 4:00 pm
Venue
Unit 201 Richbelt Tower, 17 Annapolis St., Greenhills, San Juan City, Metro Manila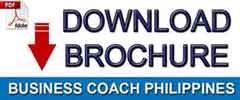 Registration Details
Seminar Fee
Php 3,000.00 per person (inclusive of snacks, lunch, seminar kit, handouts, certificate of attendance)
Discount
10% Discount if FULL AMOUNT is paid at least five (5) banking days before the event.
Reservation
Please call to register, or you may download our registration form. Kindly fill-out, and send to us through fax (727.88.60) or email. You will receive a confirmation within 48 hours.
Mode of Payment
Deposit payment at Banco de Oro, Savings Account Name: BusinessCoach, Inc. Then kindly fax deposit slip (indicate name of participant and seminar title) to confirm reservation.
On-site payment (CASH only)
Company checks are accepted, provided that they are received at least five (5) banking days before the event.
Cancellation by Attendee
Registrant may refund amount paid, with less 30% processing charge from the LISTED AMOUNT within 30 days, or opt to use the payment for a seminar of equal value within 60 days. Cancellation must be done at least 2 days before the event. Non-appearance or failure to inform us of cancellation will result to forfeiture of full amount paid.
Cancellation by BusinessCoach, Inc.
Registrant may refund full amount paid within 30 days, or may opt to use the payment for a seminar of equal value within sixty days of cancellation.
Refund Policy
Payment may be refunded upon presentation of the original copy of bank deposit slip and a valid ID. Cash refund is strictly implemented, and may be availed only at the BusinessCoach, Inc. office in San Juan City, Metro Manila. BusinessCoach, Inc. does not deposit refunds.
Note
Schedule may change without prior notice. Please call to confirm. BusinessCoach, Inc. is not liable for any expense incurred by seminar registrant resulting from cancellation of any of our events.
Contact Details
Contact Numbers
Please call (632) 727.56.28, (632) 225.66.16, or (632) 727.88.60
or call/text mobile numbers 0915.205.0133 / 0908.342.3162 / 0926.622.0768 / 0933.584.7266
Inquiries
For other inquiries, you may also leave a message in our contact form »
Testimonials
"Great job! God bless and more power!" – H. Aniban
"They trained the participants very well!" – R. Nastor
"Speaker was very good, and helpful." – L. Alas
"Very good. It improves me well." – A. Cordova