Training for Receptionists
About the Seminar
Overview
There is a barrage of visitors and job applicants at the reception. The lights on the switchboard are blinking. The fax machine is beeping. A gentleman from FedEx arrives with a delivery package. The receptionist or front desk staff has on his/her hands the big responsibility of creating an initial positive experience that will leave a lasting impression about the organization he/she represents. This one-day seminar will tackle effectiveness and efficiency scenarios and provide techniques for the participants to apply in their jobs. In addition to proper phone and message handling skills, learners will display courtesy, tact and diplomacy in their interactions with company visitors, job applicants, clients, suppliers, or patients.
Objectives
At the end of the program, the participants should be able to:

• Describe the value of the receptionist's job in the organization
• Demonstrate behavior that reflect a professional image
• Manage telephone communication with clarity and courtesy
• Deal politely with dissatisfied or discourteous visitors, clients or employees
• Manage waiting guests due to appointment delays or sudden cancellation
• Create a personal development plan
Who Should Participate
• Receptionists
• Office and support staff
• Secretaries
• Front desk staff
• Information clerks
Key Topics
I. The Receptionist: Understanding the Content of the Job

An introductory discussion of the key responsibilities of the Receptionist will help check the jobholder's appreciation and level of understanding of the value of the role.

II. A Credible and Professional Image

In this module, the participants will learn the characteristics of a polished and professional receptionist. A portion of the module will highlight behavior and habits that can destroy the receptionist's image and that of the organization.

III. Handling Calls Effectively

As in personal interactions, it is important to project a positive image in telephone conversations. The participants will learn the use of proper phrases and greetings that convey warmth while taking messages quickly or when putting callers on hold.

IV. Communication Styles

Sensitivity to body posture, hand gesture, facial expressions and understanding that people differ from each other will help determine which communication style works best to calm down a hot-tempered visitor. Applying diplomacy and tact while efficiently addressing the area of concern generally settles an agitated person. This is also the best way to prevent an uncomfortable social scene.

V. Communicating Delays and Cancellations

In this module, participants will learn how to communicate appointment delays or cancellations in a thoughtful and considerate manner.

VI. Professional Development: Planning for Tomorrow

The final module involves the creation of individual development plans that are actionable. The participants will list down goals that when achieved, will benefit themselves and their respective organizations.
Time
9:00 am – 4:00 pm
Venue
Unit 201 Richbelt Tower, 17 Annapolis St., Greenhills, San Juan City, Metro Manila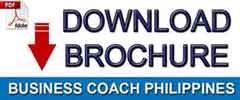 Registration Details
Seminar Fee
Php 3,000.00 per person (inclusive of snacks, lunch, seminar kit, handouts, certificate of attendance)
Discount
10% Discount if FULL AMOUNT is paid at least five (5) banking days before the event.
Reservation
Please call to register, or you may download our registration form. Kindly fill-out, and send to us through fax (727.88.60) or email. You will receive a confirmation within 48 hours.
Mode of Payment
Deposit payment at Banco de Oro, Savings Account Name: BusinessCoach, Inc. Then kindly fax deposit slip (indicate name of participant and seminar title) to confirm reservation.
On-site payment (CASH only)
Company checks are accepted, provided that they are received at least five (5) banking days before the event.
Cancellation by Attendee
Registrant may refund amount paid, with less 30% processing charge from the LISTED AMOUNT within 30 days, or opt to use the payment for a seminar of equal value within 60 days. Cancellation must be done at least 2 days before the event. Non-appearance or failure to inform us of cancellation will result to forfeiture of full amount paid.
Cancellation by BusinessCoach, Inc.
Registrant may refund full amount paid within 30 days, or may opt to use the payment for a seminar of equal value within sixty days of cancellation.
Refund Policy
Payment may be refunded upon presentation of the original copy of bank deposit slip and a valid ID. Cash refund is strictly implemented, and may be availed only at the BusinessCoach, Inc. office in San Juan City, Metro Manila. BusinessCoach, Inc. does not deposit refunds.
Note
Schedule may change without prior notice. Please call to confirm. BusinessCoach, Inc. is not liable for any expense incurred by seminar registrant resulting from cancellation of any of our events.
Contact Details
Contact Numbers
Please call (632) 727.56.28, (632) 225.66.16, or (632) 727.88.60
or call/text mobile numbers 0915.205.0133 / 0908.342.3162 / 0926.622.0768 / 0933.584.7266
Inquiries
For other inquiries, you may also leave a message in our contact form »