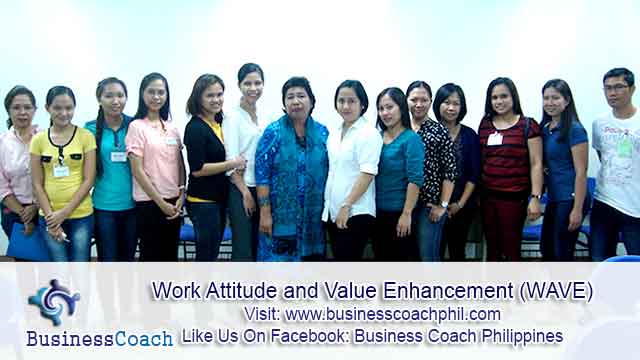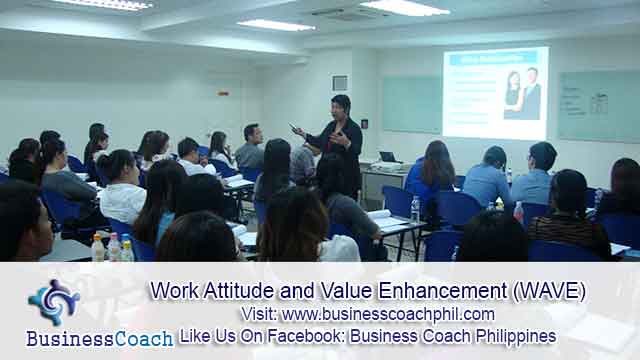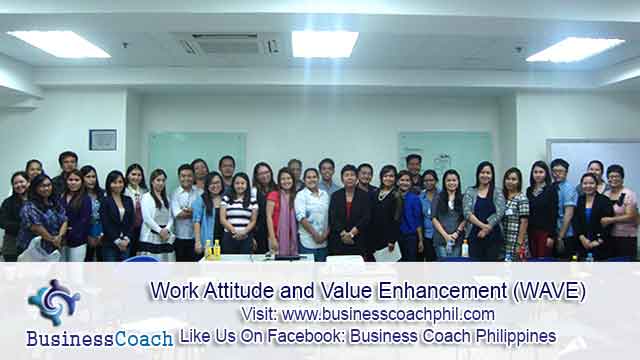 Work Attitude and Value Enhancement (WAVE) Program
About the Seminar
Overview
The program allows the participants to discover their personal vision, mission and values which they had to check for alignment with the organization. It can energize employees and see a more productive organization.

This workshop reviews the participants' work values in the light of corporate values and the components of ethical decision-making. Experiential learning experiences lead the participants on a journey to discover their own work value system. The participants are then encouraged to consider their responsibility to others in the workplace and to the work organization and how that might play a role in work productivity, decision making and even individual and corporate survival as work organizations chart their course in the limitless and increasingly competitive global marketplace.
Objectives
• To know the proper work attitude and values
• To know and follow the steps and strategies of excellent WAVE models
Who Should Participate
• Managers, executives and staff who are interested in learning more about how they can influence the strategic goals of their organization using the appropriate work attitude and values to achieve excellence.
Key Topics
• Benefits of correct work attitude and values

• Top ten values employers look for in employees

• Excellent models of WAVE

• Steps and strategies of excellent WAVE models

• Tools and techniques for successful forming of work values

• Motivating, goal setting, problem solving skills, decision-making skills and managing conflicts
Time
9:00 am – 4:00 pm
Venue
Unit 201 Richbelt Tower, 17 Annapolis St., Greenhills, San Juan City, Metro Manila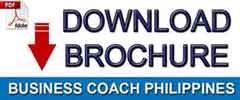 Registration Details
Seminar Fee
Php 3,000.00 per person (inclusive of snacks, lunch, seminar kit, handouts, certificate of attendance)
Discount
10% Discount if FULL AMOUNT is paid at least five (5) banking days before the event.
Reservation
Please call to register, or you may download our registration form. Kindly fill-out, and send to us through fax (727.88.60) or email. You will receive a confirmation within 48 hours.
Mode of Payment
Deposit payment at Banco de Oro, Savings Account Name: BusinessCoach, Inc. Then kindly fax deposit slip (indicate name of participant and seminar title) to confirm reservation.
On-site payment (CASH only)
Company checks are accepted, provided that they are received at least five (5) banking days before the event.
Cancellation by Attendee
Registrant may refund amount paid, with less 30% processing charge from the LISTED AMOUNT within 30 days, or opt to use the payment for a seminar of equal value within 60 days. Cancellation must be done at least 2 days before the event. Non-appearance or failure to inform us of cancellation will result to forfeiture of full amount paid.
Cancellation by BusinessCoach, Inc.
Registrant may refund full amount paid within 30 days, or may opt to use the payment for a seminar of equal value within sixty days of cancellation.
Refund Policy
Payment may be refunded upon presentation of the original copy of bank deposit slip and a valid ID. Cash refund is strictly implemented, and may be availed only at the BusinessCoach, Inc. office in San Juan City, Metro Manila. BusinessCoach, Inc. does not deposit refunds.
Note
Schedule may change without prior notice. Please call to confirm. BusinessCoach, Inc. is not liable for any expense incurred by seminar registrant resulting from cancellation of any of our events.
Contact Details
Contact Numbers
Please call (632) 727.56.28, (632) 225.66.16, or (632) 727.88.60
or call/text mobile numbers 0915.205.0133 / 0908.342.3162 / 0926.622.0768 / 0933.584.7266
Inquiries
For other inquiries, you may also leave a message in our contact form.