Coaching Skills Training to Improve Employee Performance
About the Seminar
Overview
One of the critical skills of a successful manager / supervisor / team leader is his / her capacity to coach. Thus, this training will help on how to successfully coach all kinds of employees from entry level to top management. Participants will learn to prepare the basic procedures for an effective coaching session as well as how to conduct a coaching session that will bring results.
Objectives
• To know about coaching and how it can make positive changes to the individual and the organization
• To plan, prepare and conduct a coaching session
• To learn the tools, techniques and model of coaching
• Developing and implementing a coaching strategy
Who Should Participate
• Managers
• Supervisors
• Business owners
• Employees
Key Topics
I. The vital concepts and fundamentals
1. Coaching vs Mentoring vs Counselling
2. The different kinds of coaching
3. Coach-Coachee relationship

II. The qualities of an effective coach

III. Mapping the unconscious self of the coachee (Johari Window Theory)

IV. The major principles of coaching
1. Impediments to successful coaching
2. How to make your coaching clearly understood with effective communication
3. The Grow Model Approach

V. Action planning

VI. Workshop: Putting knowledge into practice
Time
9:00 am – 4:00 pm
Venue
Unit 201 Richbelt Tower, 17 Annapolis St., Greenhills, San Juan City, Metro Manila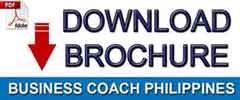 Registration Details
Seminar Fee
Php 3,000.00 per person (inclusive of snacks, lunch, seminar kit, handouts, certificate of attendance)
Discount
10% Discount if FULL AMOUNT is paid at least five (5) banking days before the event.
Reservation
Please call to register, or you may download our registration form. Kindly fill-out, and send to us through fax (727.88.60) or email. You will receive a confirmation within 48 hours.
Mode of Payment
Deposit payment at Banco de Oro, Savings Account Name: BusinessCoach, Inc. Then kindly fax deposit slip (indicate name of participant and seminar title) to confirm reservation.
On-site payment (CASH only)
Company checks are accepted, provided that they are received at least five (5) banking days before the event.
Cancellation by Attendee
Registrant may refund amount paid, with less 30% processing charge from the LISTED AMOUNT within 30 days, or opt to use the payment for a seminar of equal value within 60 days. Cancellation must be done at least 2 days before the event. Non-appearance or failure to inform us of cancellation will result to forfeiture of full amount paid.
Cancellation by BusinessCoach, Inc.
Registrant may refund full amount paid within 30 days, or may opt to use the payment for a seminar of equal value within sixty days of cancellation.
Refund Policy
Payment may be refunded upon presentation of the original copy of bank deposit slip and a valid ID. Cash refund is strictly implemented, and may be availed only at the BusinessCoach, Inc. office in San Juan City, Metro Manila. BusinessCoach, Inc. does not deposit refunds.
Note
Schedule may change without prior notice. Please call to confirm. BusinessCoach, Inc. is not liable for any expense incurred by seminar registrant resulting from cancellation of any of our events.
Contact Details
Contact Numbers
Please call (632) 727.56.28, (632) 225.66.16, or (632) 727.88.60
or call/text mobile numbers 0915.205.0133 / 0908.342.3162 / 0926.622.0768 / 0933.584.7266
Inquiries
For other inquiries, you may also leave a message in our contact form »