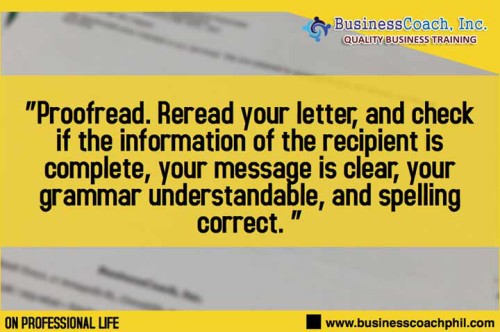 Effective business writing
Writing memos, drafting e-mails, and crafting letters form part of business in whatever type of industry. This is why it is important to be knowledgeable in creating one because typographical and grammatical errors may spell a lot of problems for your business. Here are some reminders on business writing:

Applicability. Determine first if what you want to say needs to be put into writing. Matters like simple inquiries and orders may not necessarily need to be written but just communicated verbally to the person concerned. But if you think that the matter should be put into writing, then do so.

Clarity. Keep away from idiomatic expressions and minimize jargon if you cannot do away with them. The point of writing is to convey a message or instruction to your recipient. Make sure that your sentences are as clear as possible, and can be understood in one reading by your recipient.

Brevity. Keep your sentences short and straight to the point. Only add the necessary information and avoid wordiness as much as possible unless a detailed explanation is needed in your letter. A long, wordy letter often ends up confusing your recipient or bores them out. No one likes to read long business letters, probably even you, so try to avoid making one.

Layout. Consider how your letter would look like: paper size, font size, spacing, margins, and alignment. Remember that in the physical aspect of your letter, focus is on its readability and order. Do not use fancy, cursive or decorative typefaces as they often are not easy to read.

Formality. Take note of all the formalities you need to include in your letter. Some people want their titles in their name, such as Dr., Atty., PhD, Engineer. They have worked hard to earn those titles, so you should give them the respect that they are entitled. Aside from their title, your message should also be as formal as the person you are sending them to.

Proofread. Reread your letter, and check if the information of the recipient is complete, your message is clear, your grammar understandable, and spelling correct. Word processors offer assistance in spell checks and grammar checks, so use them to your advantage, but do not rely on it fully because that is all that it can check. It cannot ascertain if what you have written is enough, or if would make sense to your recipient at all.

Business writing in itself is a skill that requires practice. It is not inborn, but a product of constant practice and study of the English language.

BusinessCoach, Inc., a leading business seminar provider, conducts a seminar entitled, "Effective Business Writing." Call (02) 727-5628, (02) 727-8860, (0915) 205-0133, or visit www.businesscoachphil.com for details.

Click here to view details of the seminar: Effective Business Writing »

*Originally published by the Manila Bulletin. C-6, Sunday, May 18, 2014. Written by Ruben Anlacan, Jr. (President, BusinessCoach, Inc.) All rights reserved. May not be reproduced or copied without express written permission of the copyright holders.