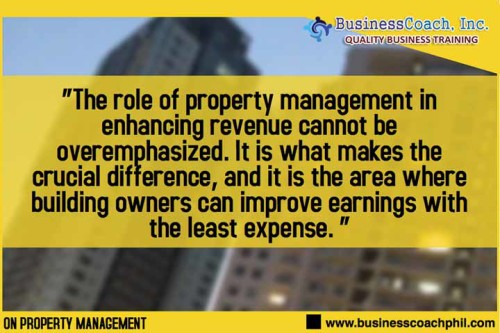 On Building and Property Management
Even if you build the most beautiful building, you will earn nothing if you do not have good tenants – and the most desirable tenants naturally demand the best service. The role of property management in enhancing revenue cannot be overemphasized. It is what makes the crucial difference, and it is the area where building owners can improve earnings with the least expense.

Due to its importance and difficulty, property owners should consider whether they do this function in-house or just get a property management firm. For those who want to outsource, there are now many firms specializing in this function – from one-man property managers to multinationals.

The responsibilities in building and property management are numerous and differ greatly depending on the type of property being managed. Below are just 10 of the major functions:

1. Ensuring regulatory compliance. This is the most crucial function for the facility may be closed or penalized if there is a violation of the laws governing the property. The yearly task of getting the business permit requires a thorough knowledge of the requirements in order to comply. Some of the most important requirements include real estate tax, fire and occupancy permit, sanitary permit, building mechanical and electrical insurance, and comprehensive general liability insurance.

2. Drafting and implementation of house rules and regulations. To prevent chaos from erupting, rules must be made. Among the items that must be decided upon are the uses of common facilities, maintenance of the unit, restrictions, parking privileges, and sale or lease of a unit.

3. Ensuring building security. The management must be able to screen unauthorized persons from entering the premises. Nowadays, it is not only the supervision of security guards but also the strategic deployment of CCTV's to monitor and safeguard the facility.

4. Taking care of building maintenance and facilities. Nothing turns off tenants more than dilapidated facilities so immediate attention must be made to needed repairs.

5. Implementing housekeeping and sanitation programs. This covers many things, like janitorial services and pest control.

6. Assessing and collecting dues. Accurate billing and efficient collection is also a major task that must be done correctly, promptly and politely.

7. Managing entrusted funds. Since the property manager must be accountable for the funds, there must be a detailed and transparent report on how they have been handled.

8. Implementation of policies of the Condominium Corporation or a similar entity. Although the managers of the building are usually free to adopt additional rules, there are certain resolutions by owners that have precedence and must be implemented.

9. Having disaster preparedness programs. Management of the property is also responsible for the well-being of the occupants during times of calamities or terrorist attacks. Fire prevention is the usual focus of the disaster preparedness although it rarely occurs. The most common threat has been severe flooding, which can affect a wide area.

10. Managing customer service. It is not only what you do, but how you do it that matters. Courteous service must be consistent. Building personnel must be in proper uniform and have a neat appearance. There must be continuous training to sustain the effort to offer excellent customer service.

Maximize your properties' potential by improving your property management. Learn the aspects that must be tackled. Want to learn more? BusinessCoach, Inc., a leading business seminar provider, conducts seminars on Building and Property Management. You may contact them at 727-5628/727-8860, or visit their website www.businesscoachphil.com for details.

Click here to view details of the seminar: Building and Property Management »

*Originally published by the Manila Bulletin. Written by Ruben Anlacan, Jr. (President, BusinessCoach, Inc.) All rights reserved. May not be reproduced or copied without express written permission of the copyright holders.